The title…it's a little obvious right?
Because when life gives you lemons, you don't always want to make lemonade. I mean yes, I understand that the purpose of this saying is not about lemonade; it's most likely expressing that when life gets sour, take what you have and turn it into something better, sweeter, lucrative even.
But what this adage should REALLY say is "when life gives you lemons, add 2 lbs of sugar until it tastes better".
Or as Paul Rudd's character from Forgetting Sarah Marshall would say: "When life gives you lemons, say F the lemons and bail."
Right on man.
And that's why today, I'm sharing a super sweet recipe for lemon poppy seed muffins. Because to me, when life gives you lemons, I say…add legal opiates.
You probably knew that already, about the poppy seeds that is. Especially if you are a fan of Seinfeld and you can recall the episode where Elaine fails a drug test over poppy muffins. #classic
And if you didn't know that, well, you learned something today: poppy seeds DO in fact contain trace amounts of opiates. That's about 0.5 to 10 micrograms* of morphine per gram mind you, but not enough to get you high.
Nope, the only thing poppy seeds do to these muffins is add a nice flavor and texture, creating the perfect breakfast muffin or after school snack.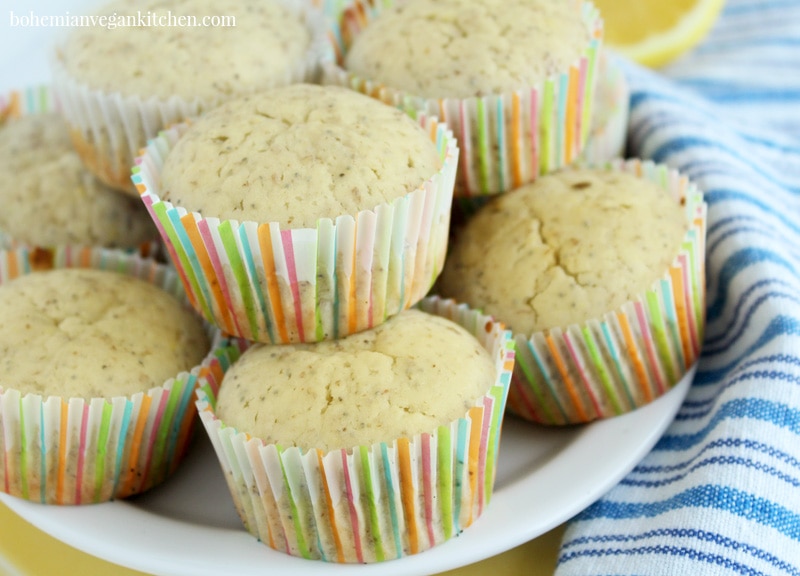 Vegan lemon poppy seed muffins that actually deliver lemon-y flavor
This may go without saying, but these muffins are one of my favorite muffins EVER.
One reason is because they are packed with lemon-y flavor. Personally, there's nothing more disappointing (when it comes to muffins that is) than biting into a lemon muffin and not tasting any lemon. Cue the wa-wa sound effect.
This is why I use a trio of lemon powers, including lemon juice, lemon zest, and lemon extract. Because by George, I want lemon flavor to burst in my mouth with each delicious bite.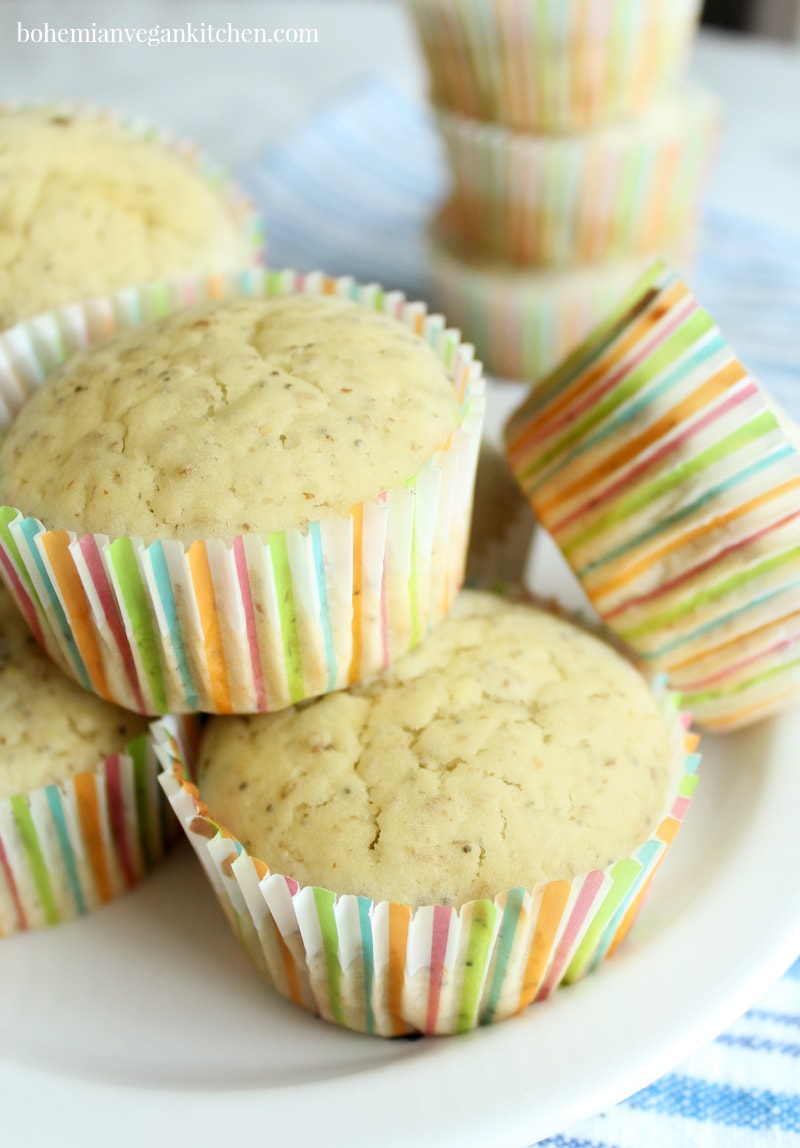 I've also added a hint of vanilla for balance, which is completely optional. Honestly (and as a side note), the price of vanilla continues to skyrocket and so we have to be very careful about when we use vanilla.
With or without vanilla though, these muffins deliver on taste + consistency.
Because when life gives you lemons…you can forget the lemonade and make vegan lemon poppy seed muffins instead. You won't be sorry.
Allergy-Info & Substitutions
These lemon poppy seed muffins are 100% vegan, meaning they are dairy-free and egg-free. They are also naturally soy-free and nightshade-free.
Make them nut-free by using another plant-based milk of your choice.
Make them gluten-free by using gluten-free flour, such as Bob's Red Mill's 1 to 1 GF flour, which you can get by clicking here.
For a healthier kick, you can also substitute the white flour for wheat flour.
Don't want to use that much oil? You can always use applesauce, which is a 1 to 1 ratio. However, it is generally advised to use no more than ¼ C of applesauce; to do more may completely change the chemistry of the recipe. To make things simple, for this recipe I would use ⅓ C of unsweetened applesauce and ⅓ C of canola oil to keep it on the safe side. If you try this and it's a success, please let me know in the comments below.
For another amazing muffin recipe, you can check out my Vegan Banana Chocolate Chip Muffins by clicking here.
I hope you enjoy these amazing muffins! Make sure to share your creation with me on Instagram by tagging me @bohemian.vegan.kitchen + using the hashtag #bohemianvegankitchen.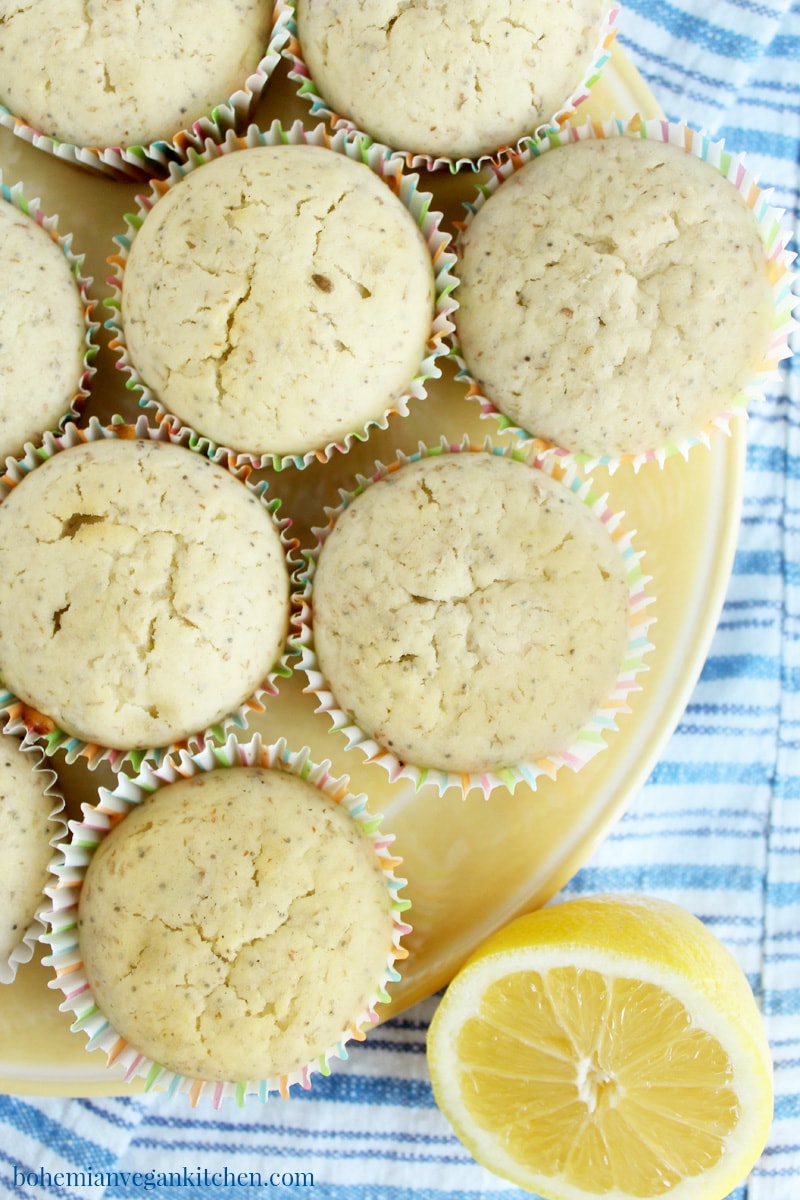 When life gives you lemons, forget making lemonade and make vegan lemon poppy seed muffins instead! Bursting with lemon-y flavor + packed with delicious poppy seeds, these muffins are the perfect breakfast muffin or on-the-go snack. Can easily be made gluten-free with a simple switch of flour.
Vegan Lemon Poppy Seed Muffins
Instructions
Preheat oven to 350°. Line two muffin pans with cupcake liners; set aside.

In a stand mixer (or medium mixing bowl with electric beaters), cream together the oil, sugar, and flax. Stir in flour, pink salt, and baking powder. Keeping your stand mixer (or electric beaters) running, slowly stir in almond milk, lemon juice, extracts, and lemon zest. Beat for 1 minute, until ingredients are combined well.

Using an ice cream scoop, transfer batter evenly between muffin cups. Pop in the oven for 18-20 minutes, or until a toothpick inserted into the middle comes out clean. Cool for a couple minutes before serving.
Tried this recipe? Tell me about it + share!
Comment and let me know how it was! Then follow BVK on Pinterest @bohemianvegankitchen
Share this recipe with a friend by Email
Pin It!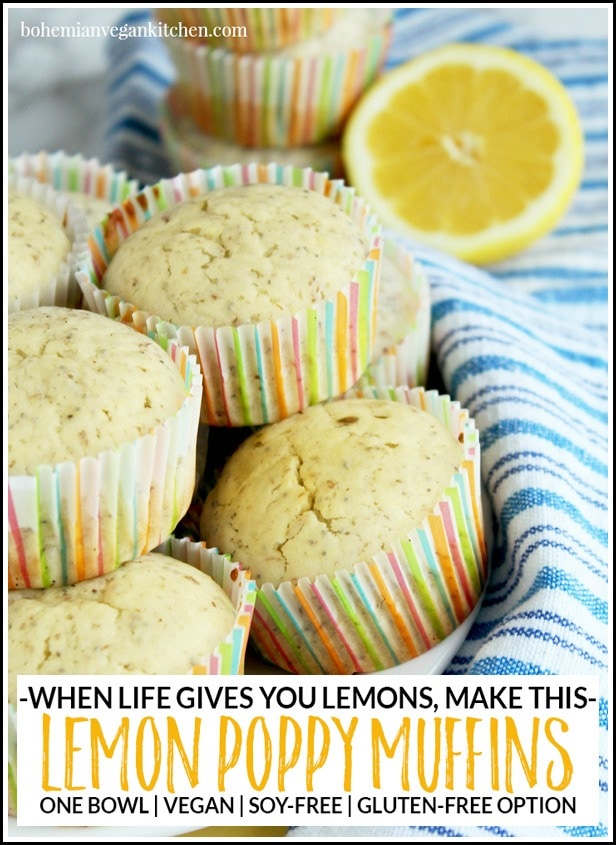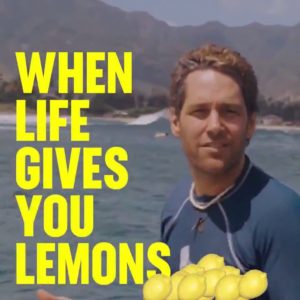 Thank you for taking the time to invest in your health and happiness!