Who doesn't love muffins? Especially these vegan banana chocolate chip muffins that are seriously SO EASY to make.
Muffins are like small servings of cake, only you can get away with eating them for breakfast. I wouldn't let my kids enjoy a slice of birthday cake first thing in the morning, but a muffin?
PROCEED.
Perhaps it's because muffins can be made with less sugar, and there's not a mountain of icing on top. Or maybe it's because muffins can include other healthy bits, like bananas and nuts in them. Whatever the reason, muffins get a pass and I'm all for it.
If you enjoy these vegan banana chocolate chip muffins, be sure to check out this vegan banana pudding and this list of vegan banana recipes.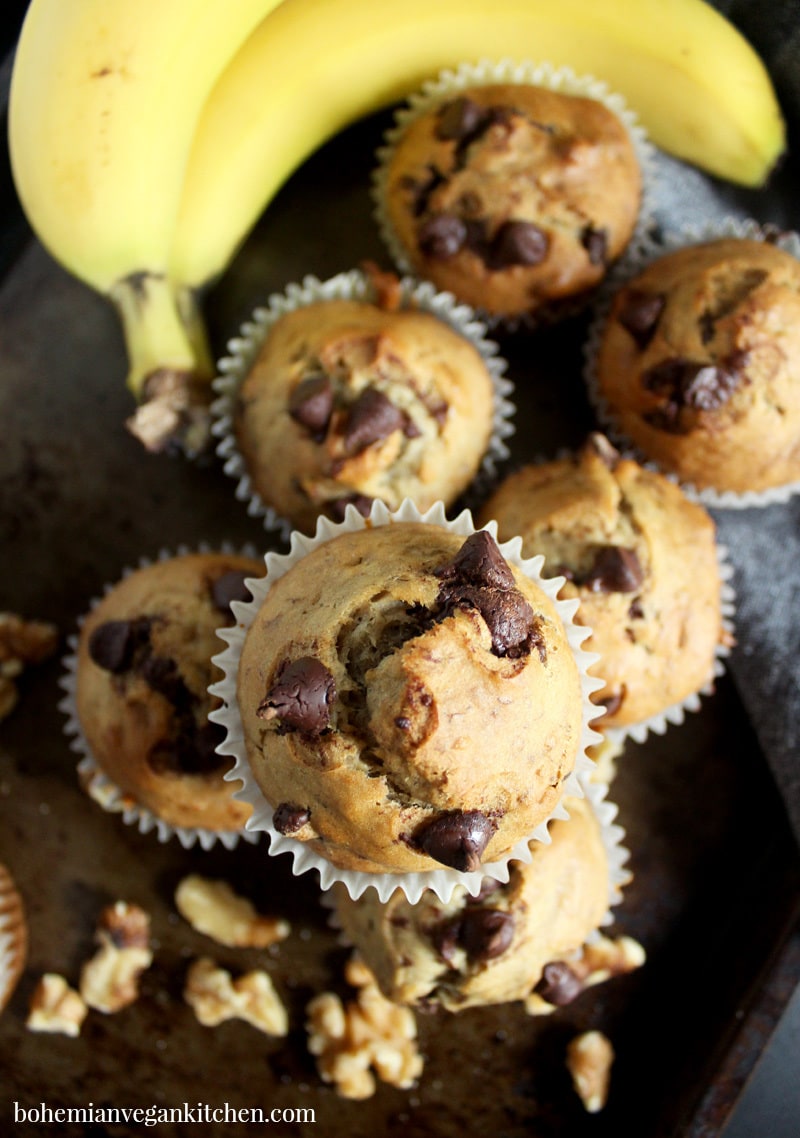 Vegan banana chocolate chip muffins based on Chunky Monkey ice cream
These muffins definitely deserve praise, since they are modeled after one of my favorite ice creams ever to grace the freezer aisle, Chunky Monkey!
Ben & Jerry had it right when they combined creamy bananas, chocolate chips, and chunky walnuts together. However, B & J ice cream for breakfast is not really a good option, no matter how you spin it.
This recipe delivers those classic flavors while still remaining healthy, so it's a win-win! Perhaps the best part is that they only take 10 minutes to make, using only one bowl.
And did I mention these muffins are naturally egg-free? Let me explain why this works…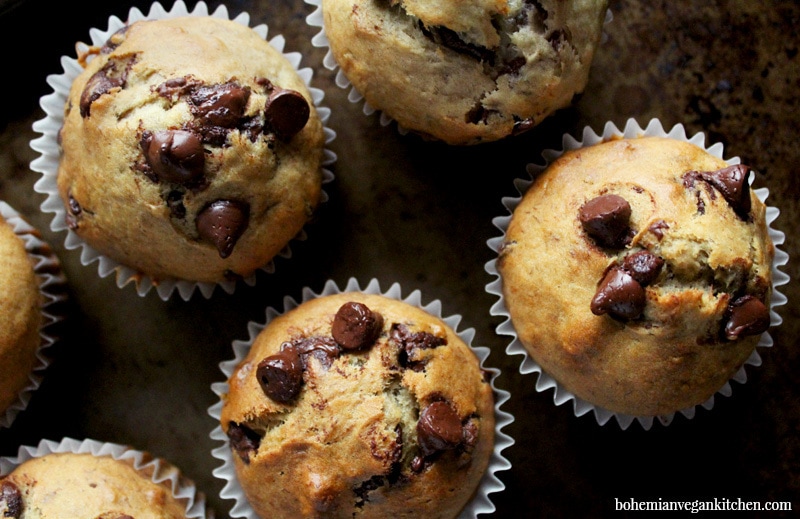 Why bananas make the perfect egg substitute + AMAZING muffins
Eggs, while being a classic ingredient for baked goods, is not necessary for a good muffin, particularly with banana muffins.
In fact, banana is one of the best egg substitutes when baking sweet vegan goods, mainly because of its high moisture content and ability to bind ingredients together. You just have to remember that whatever you use banana for will taste like, well, bananas!
And in this case, that's EXACTLY what we want. The result is a fluffy, moist muffin that will rock your morning.
Ingredients you need for vegan banana chocolate chip muffins
Making these muffins are so easy and require only a few things.
Ripe bananas. This is the most important part of these muffins! I like using 3 bananas, which is approximately 1 ½ cup mashed bananas.
Unbleached, all-purpose flour. I prefer using unbleached all purpose, but you can also swap this out for gluten-free if you wish.
Cane sugar. I like using organic cane sugar, since that is vegan (regular sugar may be processed with bone char).
Baking soda.
Baking powder.
Salt. I use Himalayan pink salt since that's a healthy salt option, but you can use whatever you prefer.
Almond milk. I prefer using almond milk, but you can use any plant-based milk of your choice, or even just water!
Vanilla extract. Optional.
Walnuts. Optional, but adds to the "Chunk Monkey" feel.
Dairy-free chocolate chips. There are many "accidentally vegan" chocolate chips out there, but I also love using the Enjoy Life brand, especially if allergies are a concern.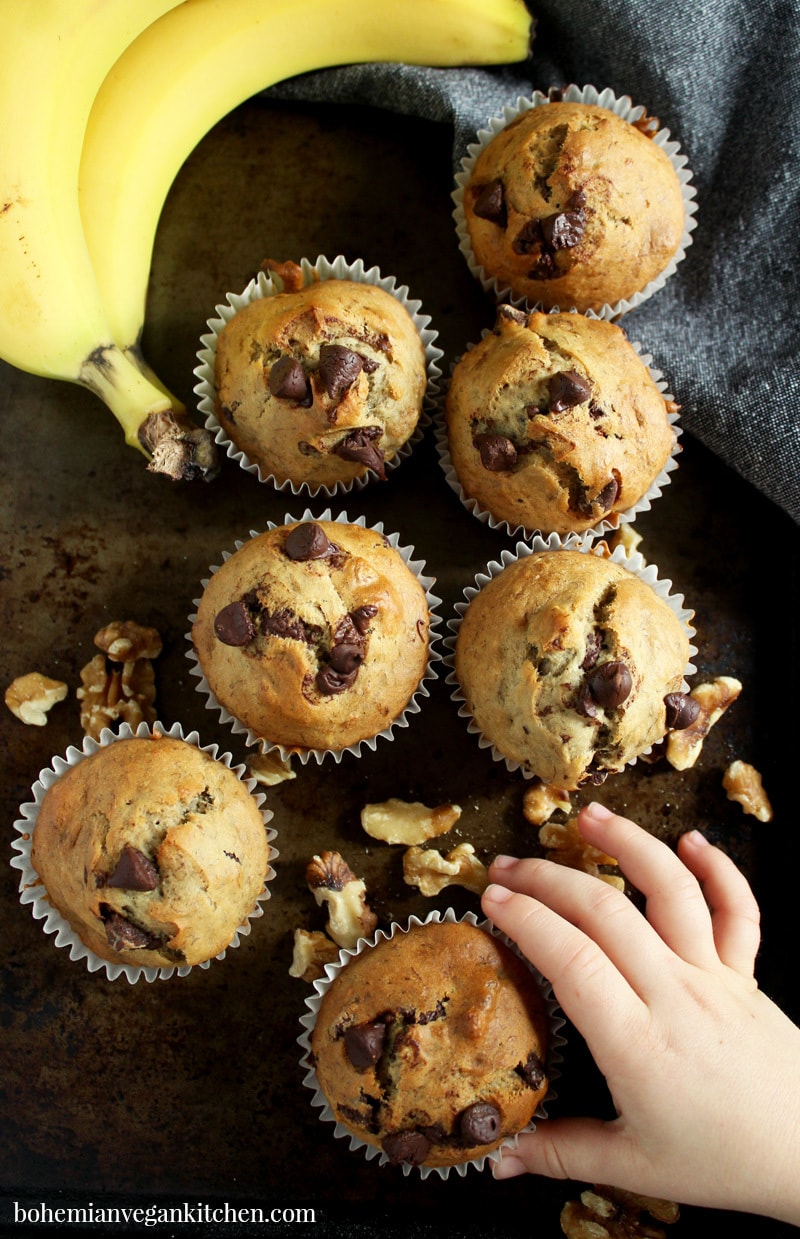 Frequently Asked Questions
Can you substitute the oil in this recipe?
Yes! If you don't want to use oil, substitute with a nut butter of your choice, such as peanut, cashew, almond, or sun butter.
Are these vegan banana chocolate chip muffins gluten-free?
This recipe can easily be made gluten-free by using a gluten-free 1 to 1 flour, such as Bob's Red Mill brand (in the blue bag).
Can you double this recipe?
Totally! These muffins would be perfect to bake and freeze for morning muffins all month long.
Can you freeze muffins?
Yes! Allow the muffins to cool completely before freezing. Then, wrap each muffin separately in plastic wrap, and label with the date. Muffins can be stored in the freezer for up to 3 months. To defrost, remove muffin and allow to defrost at room temperature. You can also pop them in the oven to warm them– just bake at 400F for 8-10 minutes.
Allergy Information & Substitutions
I hope you get a chance to make these delicious vegan banana muffins! If you do, make sure to let me know in the comments below.
Chunky Monkey Vegan Banana Chocolate Chip Muffins
If you're a fan of Ben & Jerry's Chunky Monkey ice cream, you'll love these vegan banana chocolate chip muffins! Banana muffins are one of the best baked goods to make vegan, since bananas are a natural egg substitute + make these muffins moist and fluffy! Perfect for a quick breakfast or on-the-go snack.
Instructions
Preheat oven to 350°F. Line a muffin baking tray with muffin wrappers; set aside. Note: I found that this batch made 15-18 muffins, depending on the size of the bananas. Having two pans is a good idea!

In a medium mixing bowl, combine the flour, sugar, baking soda, baking powder, and salt. Slowly stir in oil, almond milk, and vanilla, followed by the mashed bananas and blend with electric beaters. Make sure the mixture in combined well, with no clumps before adding in remaining ingredients. When your batter is smooth, stir in chopped walnuts and chocolate chips.

Using an ice cream scoop, divide batter equally between muffin cups. Pop into the oven for 20 minutes, or until a toothpick inserted into the center comes out clean (being mindful of the chocolate chips, which can throw you off on timing; make sure you are inserting the toothpick in the sponge portion). Let cool before serving.

Tried this recipe? Tell me about it + share!
Comment and let me know how it was! Then follow BVK on Pinterest @bohemianvegankitchen
Share this recipe with a friend by Email
Pin It!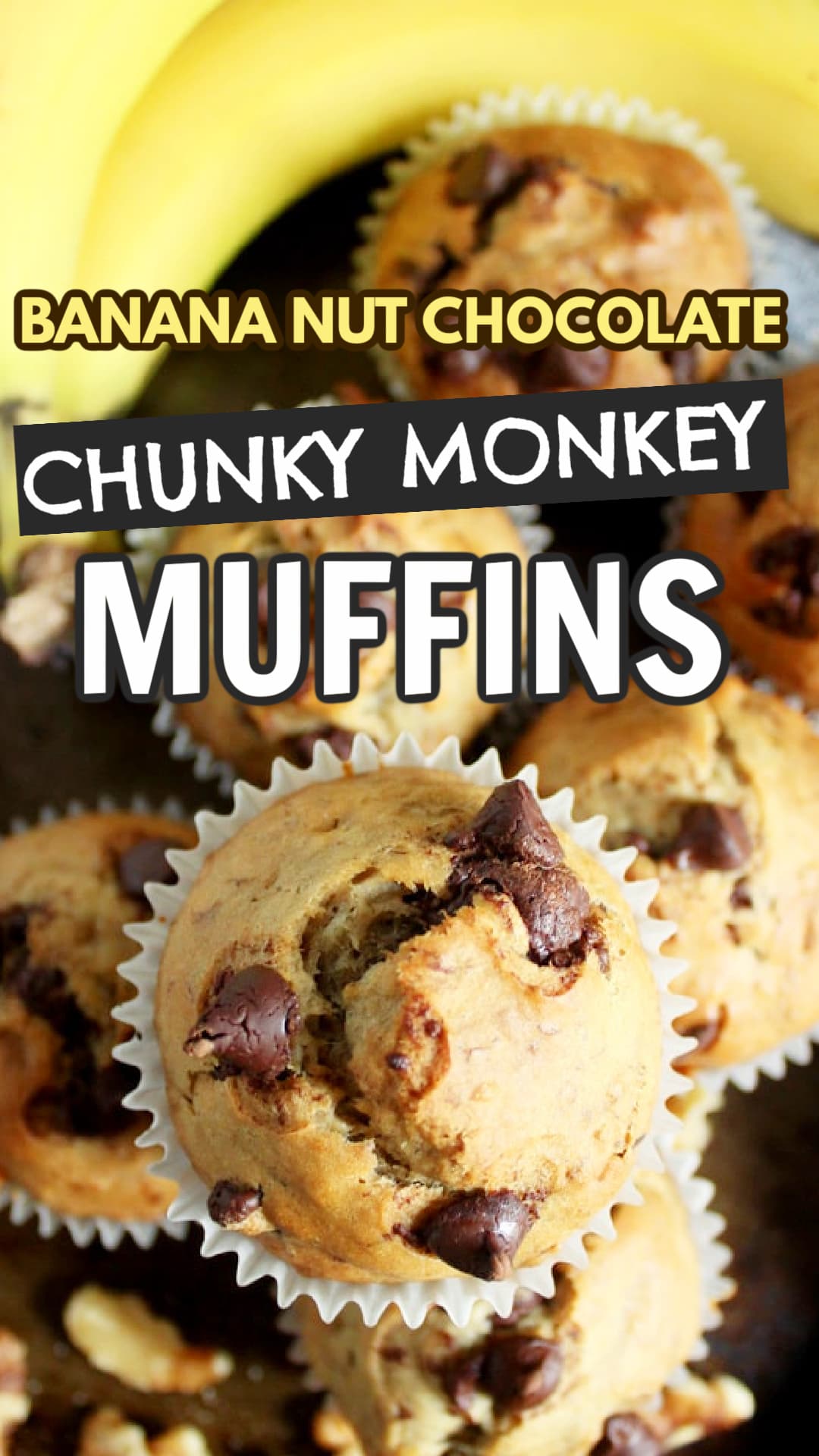 Thank you for taking the time to invest in your health and happiness!