If you're looking for the perfect vegan lunch to meal prep for the week, you can stop now.
Because pasta salad is the king of easy vegan to-go meals.
All you need is a few minutes to chop up some fresh veggies and boil water, and you're good to go. But my favorite thing about pasta salad, other than it's zesty flavor, is that you don't have to worry about reheating whatsoever.
Served hot or cold, vegan pasta salad is THE BOMB.
Just ask anyone who's ever gone to a backyard BBQ or summer block party; they'll tell you how amazing it is as they shovel spoonfuls into their mouths.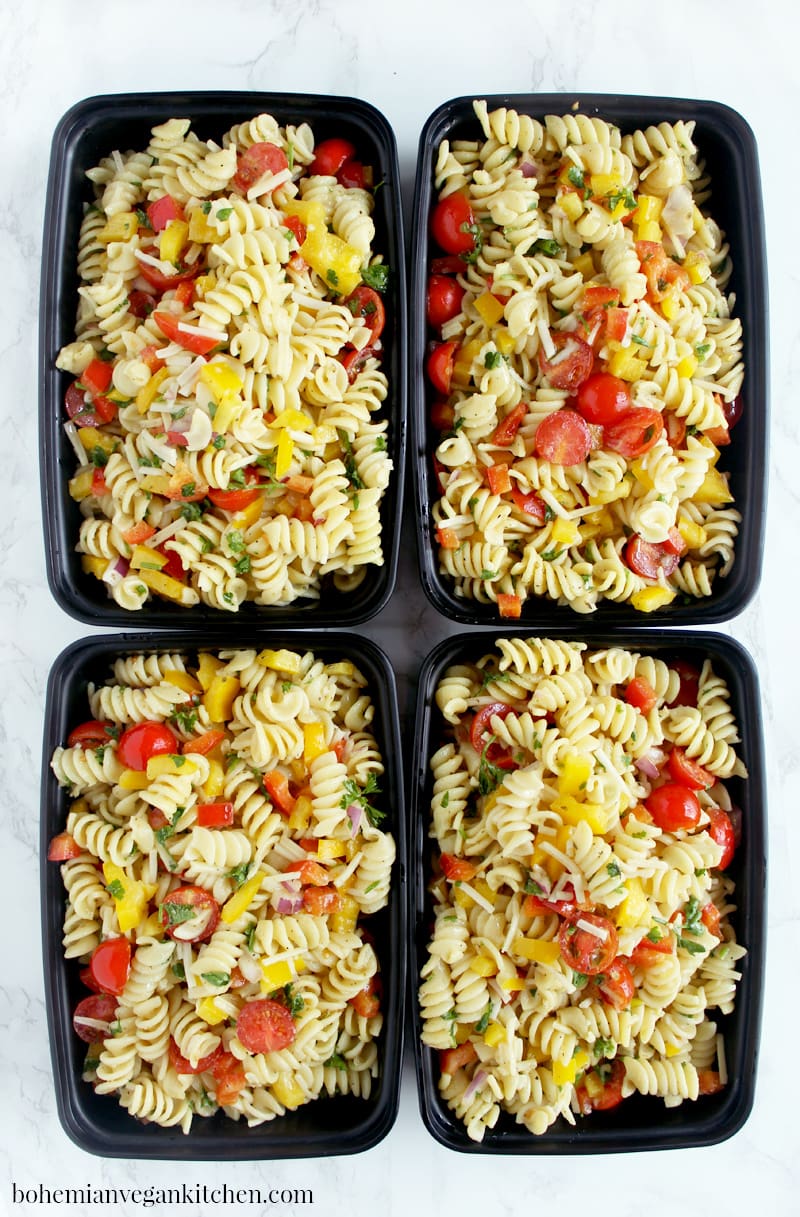 I've tried to pinpoint the *magic* behind pasta salad, and I've come to the conclusion that part of it stems from the term "salad". Somewhere along the way, humans have managed to turn the idea of "salad" into any kind of mixture that does not contain actual salad.
Nope, you won't find fresh romaine or spinach in things like chicken salad, tuna salad, or egg salad; these mixtures use the label "salad" as a fancy buzz word at the end, making the actual salad part an afterthought.
But whoever came up with the idea of waving their wizard word wand over pasta and turning it into salad was a genius nonetheless. Not only does it make us feel like we are eating lighter, but it gives us a free pass to eat noodles without shame.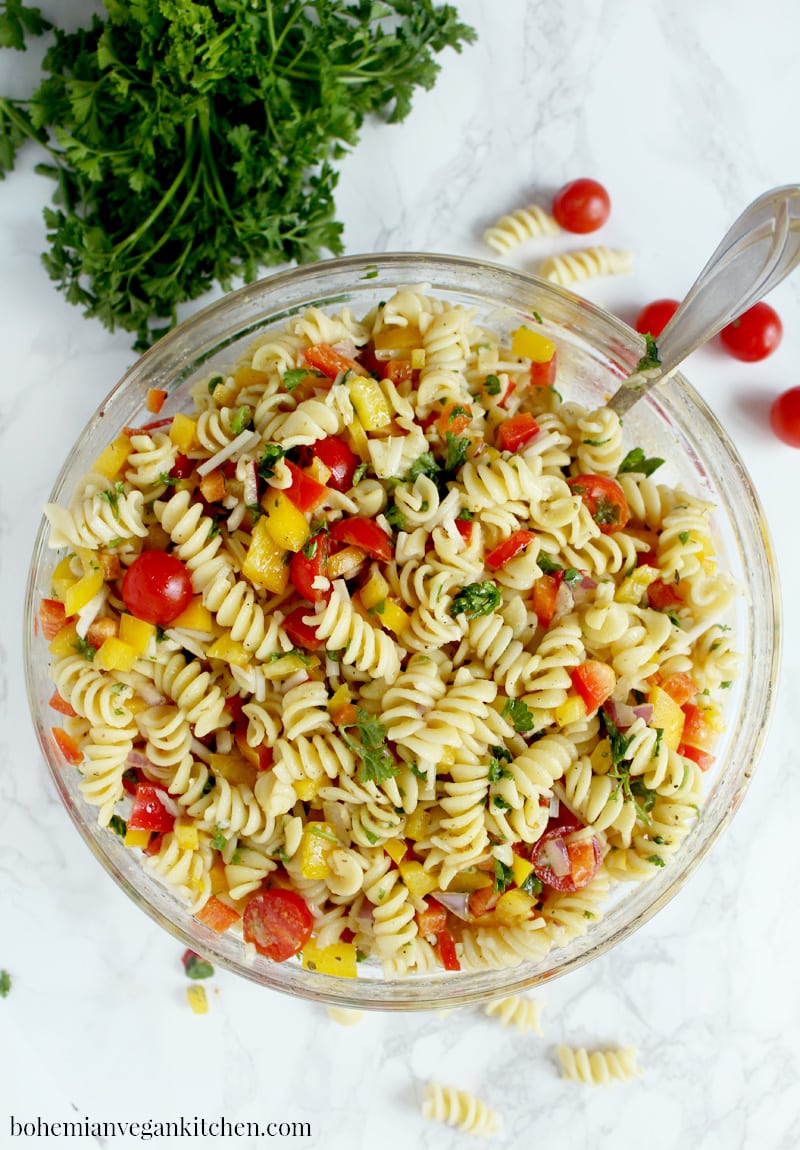 A pasta salad worthy of vegan meal prep
Personally, I adore pasta salad and love making it from scratch; it's also the perfect candidate for meal prepping.
In fact, it's so easy to throw together that there's absolutely no reason to buy the boxed stuff. And this recipe makes just enough for 4-5 containers for your lunch week. You can eat this vegan pasta salad all on it's own, or pair it with fresh apple slices or strawberries.
This cuts down on time spent prepping, topping out at only 20 min from start to finish.
This pasta salad is not only easy, but healthy too, since it contains freshly sliced vegetables such as cherry tomatoes and bell peppers. The flavor is poppin' and with the addition of Daiya mozzarella cheese, you get the added bonus of melted cheese woven into this dish.
And don't worry, if you need to do gluten-free, a simple switch of the pasta will do. See the allergy section below for more alterations/substitutions.
So grab 20 minutes and make yourself a bowl- you'll be thanking yourself all week.
Allergy-Info & Substitutions
This pasta salad is 100% vegan, meaning it is meat-free, dairy-free, and egg-free. It is also naturally nut-free and soy-free.
Make it gluten-free by using gluten-free rotini noodles, or another noodle of your choice.
For extra flavor, throw in some sliced black or green olives, banana peppers, or jalapenos.
Don't like Daiya cheese? Throw in another plant-based cheese of your choice OR leave out completely.
I hope you enjoy this amazing vegan pasta salad! Make sure to share your creation with me on Instagram by tagging me @bohemian.vegan.kitchen + using the hashtag #bohemianvegankitchen.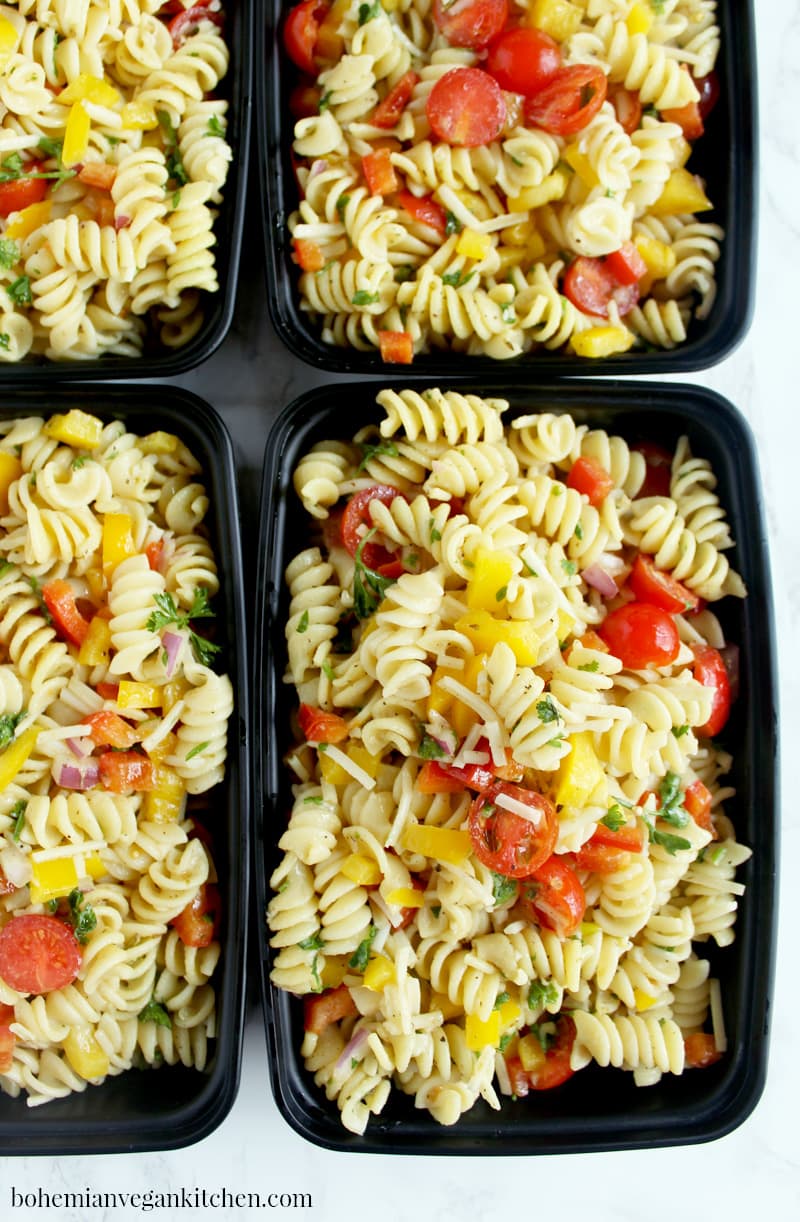 Become a VEGAN NINJA in the kitchen.
Want to step up your vegan game? Just pop your email in the space below and I'll send you my complete email series on how to plan and prep vegan meals like a PRO. You'll also receive a FREE meal planning printable as a special thank you download, plus occasional future emails with easy vegan recipes!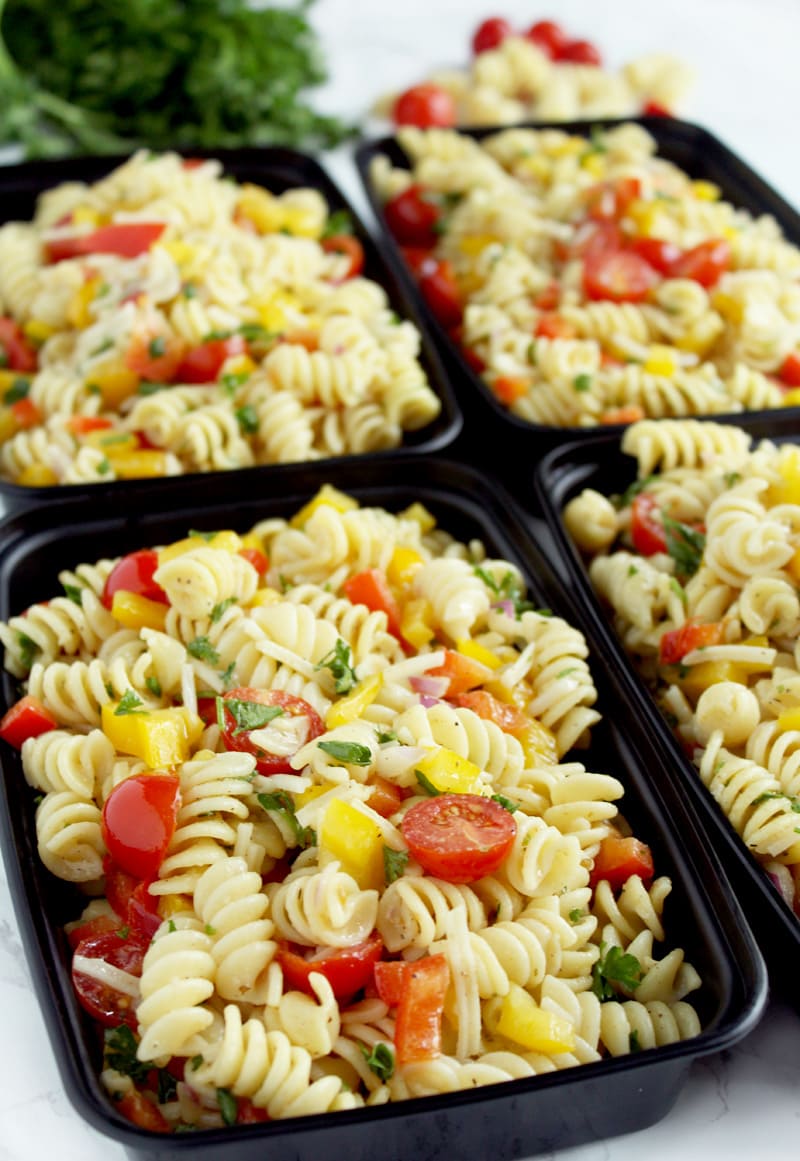 Be prepared for the week ahead with this simple + flavorful vegan pasta salad! Easy to pull together, this pasta salad can be made from start to finish in 20 minutes, leaving you more time to relax before you start your workweek.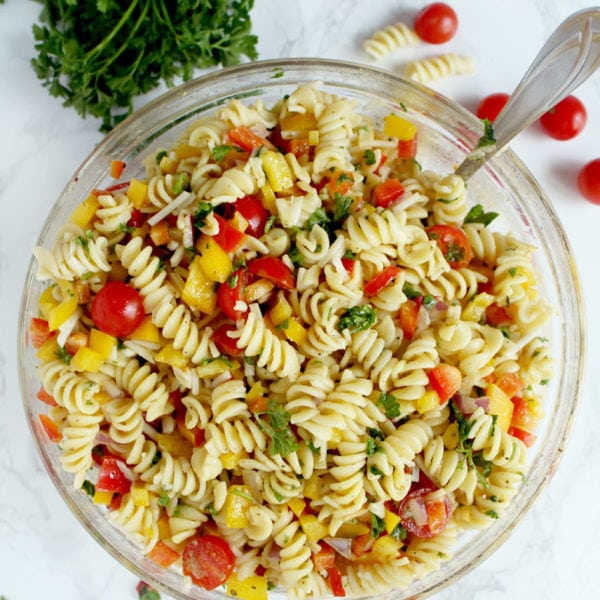 Vegan Pasta Salad (Italian)
Ingredients
For the Pasta:
4-6

quarts

filtered water

1

lb

rotini spiral pasta

1

red bell pepper, diced small

1

yellow bell pepper, diced small

1

C

cherry tomatoes, sliced in half

¼

C

red onion, finely chopped

Handful

fresh parsley, chopped

1

C

Daiya mozzerella cheese shreds, cutting board collection

(optional)
For the Dressing:
⅔

C

extra virgin olive oil

(or oil of your choice)

2

tablespoon

white wine vinegar

2

tablespoon

nutritional yeast

1

teaspoon

italian seasoning

1

teaspoon

pink salt

½

teaspoon

black pepper
Instructions
Begin by bringing water to a boil; drop in rotini spiral pasta and cook for 9 minutes, stirring occasionally. Meanwhile, slice bell peppers, tomatoes, onions, and parsley. Add to a large mixing bowl along with Daiya cheese, stir.


In a separate, small bowl, whisk together dressing ingredients; set aside.


Once pasta is finished cooking, strain noodles and add to veggie mixture. Stir until combined well; the cheese should begin to melt slightly. Slowly stir in dressing and mix until all pasta is covered. Can be served immediately OR divided into meal prep containers for the week ahead.

Tried this recipe? Tell me about it + share!
Comment and let me know how it was! Then follow BVK on Pinterest @bohemianvegankitchen
Share this recipe with a friend by Email
Pin It!
Thank you for taking the time to invest in your health and happiness!