Vegan taco meat is the MACGYVER of vegan Mexican recipes.
Perhaps it's because it can be made a million and one ways, but instead of using a screwdriver, a toothpick, and some floss, you can use simple food items you have on hand.
"Give me some lentils, some mushrooms, and a handful of chopped walnuts."
Exactly.
Because there is no secret formula to making delicious vegan Mexican food, and rarely do I make the same thing twice. Sometimes I use cauliflower, sometimes just beans, sometimes sweet potatoes, and sometimes…well, you get the point.
And honestly, that's a fact I LOVE about Mexican food and vegan taco meat: there is no wrong answer.
Tacos especially. They are magical, like unicorns or the fact that we still know who MacGyver is.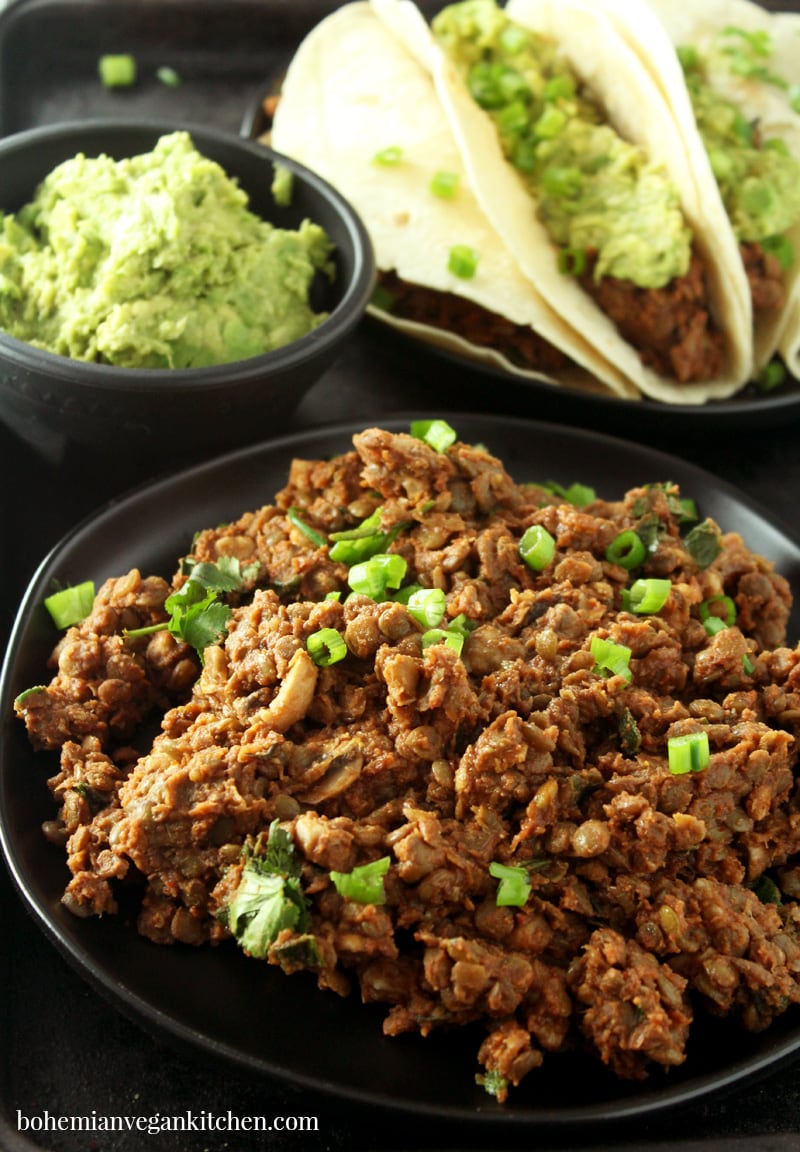 Killer vegan taco meat that even non-vegans enjoy
Tacos are so magical, they can bring people together.
No really, they can. Take any two people that despise each other, and order them a round of tacos. I bet, despite any cultural or political differences, they can agree that tacos are THE BOMB.
Tacos don't just taste good, they build bridges y'all.
Because who can resist a good taco? It's literally one of the best foods ever invented; you can stuff it with pretty much anything, top it with a dollop of guacamole, and it tastes amazing.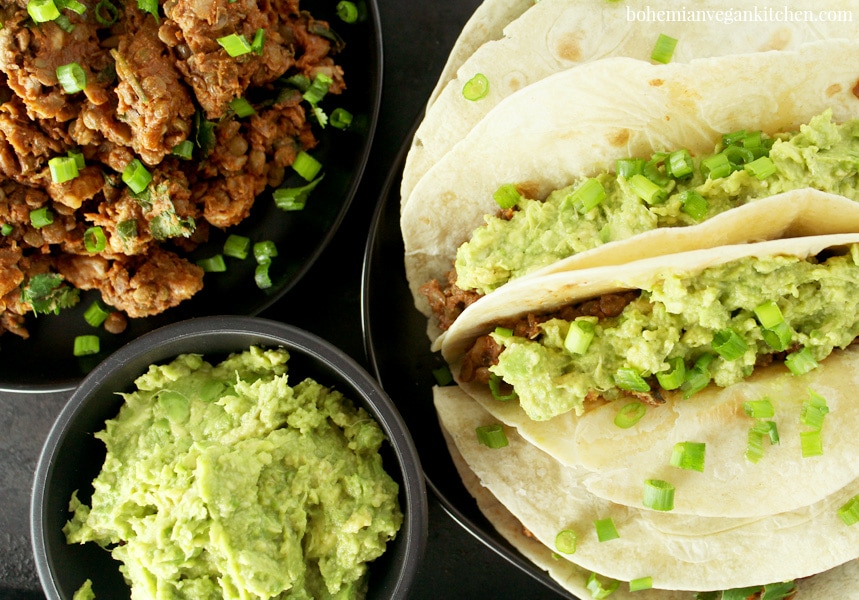 Which is why this vegan taco meat is the PERFECT topping to serve at your next party.
I've served this taco meat at parties multiple times to non-vegans + veg-heads, and both groups were beyond satisfied. My meat-eating friends never miss the meat, and everyone always goes back for seconds.
Because by bringing together delicious Mexican flavors, such as ground cumin + spicy salsa, and then marrying them with simple ingredients like lentils, mushrooms, and walnuts, you create a taco fiesta that's absolutely delicious.
How to use this vegan taco meat
The best thing about this recipe (other than how yummy it tastes) is how versatile it is. Here are a few of my favorite ways to use this vegan taco meat:
Use it on soft or hard tacos with shredded lettuce and guacamole.
Stuff it in a burrito with rice, corn, shredded lettuce, guacamole, and your favorite vegan cheese.
Use it in enchiladas and smother with delicious enchilada sauce.
Top it on tostadas with baked cauliflower and green onions.
Use it on nachos drizzled with vegan nacho cheese.
Mix it into a taco salad with hot sauce.
GREAT AS LEFTOVERS: pack this taco meat for a bomb vegan lunch!
I hope you enjoy this amazing vegan taco meat, and make sure to share your creation with me on Instagram by tagging me @bohemian.vegan.kitchen + using the hashtag #bohemianvegankitchen!
Allergy-Info & Substitutions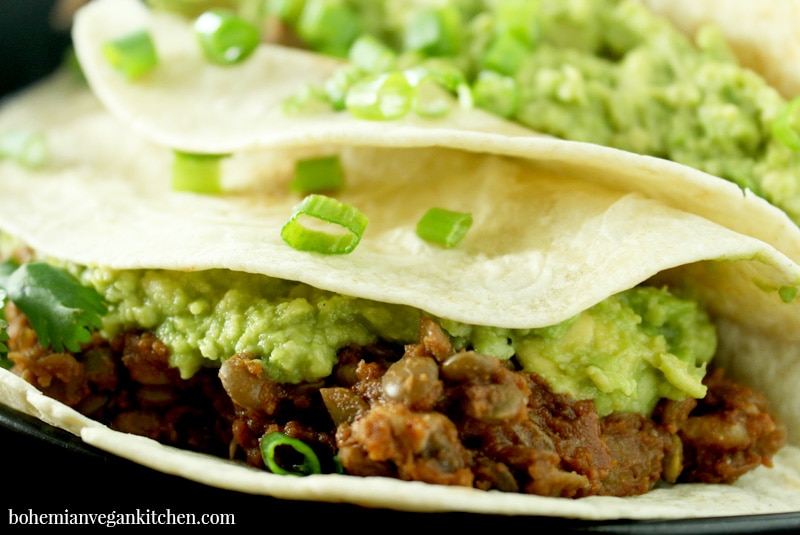 [convertkit form=5036453]
If there's one thing MacGyver taught me, it's that you can be creative with household items, and this vegan taco meat is no exception! Using simple ingredients you already have on hand, and marrying delicious Mexican flavors, you can take your tacos to the next level!
The Best Vegan Taco Meat
Ingredients
1

C

brown lentils

3

C

veggie broth (such as "Not-Chicken" brand)

1

C

white mushrooms, broken into pieces (or chopped small)

2

tablespoon

canola oil (or oil of choice)

½

C

chopped walnuts

½

C

sliced green onions

¼

C

salsa

2

tablespoon

tamari sauce

1 ½

teaspoon

smoked paprika

1-2

teaspoon

chili powder

1

tablespoon

nutrtional yeast

chopped cilantro
Instructions
In a small pot, cook lentils in broth until soft; about 20 minutes. Set aside.


Next, heat oil in a large frying pan. Add walnuts and mushrooms, and cook on medium heat for 2-3 minutes, stirring to prevent walnuts from sticking to the pan. Stir in green onions; heat 1 minute more. Add cooked lentils to the pan, followed by the salsa, tamari, smoked paprika, chili powder, and nutritional yeast. Cook for 5 minutes, allowing the spices to absorb and mushrooms to be tender.


Remove from heat; spoon onto tacos or use in burritos, on nachos, or in enchiladas. Sprinkle fresh cilantro on top before serving.

Tried this recipe? Tell me about it + share!
Comment and let me know how it was! Then follow BVK on Pinterest @bohemianvegankitchen
Share this recipe with a friend by Email
Pin It!

Thank you for taking the time to invest in your health and happiness!