Kids love nuggets.
Maybe it's because nuggets are small, like kids are, and you don't have to use a fork. Or maybe it's because you can dip them in heaping amounts of barbecue sauce and then proceed to lick your fingers. Or for some kids, maybe getting nuggets is a celebration because you get a toy along with it.
Whatever the reason, nuggets are here to stay as one of the top kids foods of all time, right next to pizza and hamburgers.
And if you want to satisfy that kid craving for nuggets, but you also want your kids to eat healthy, you gotta get creative.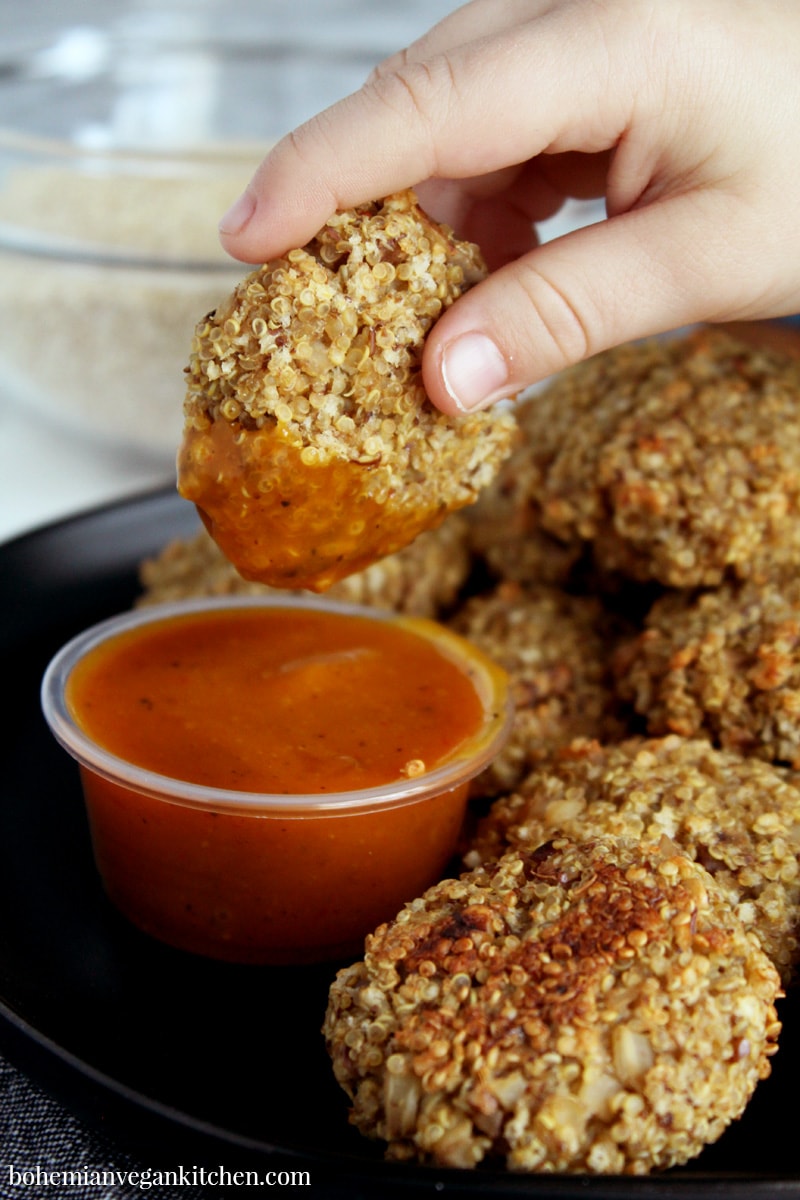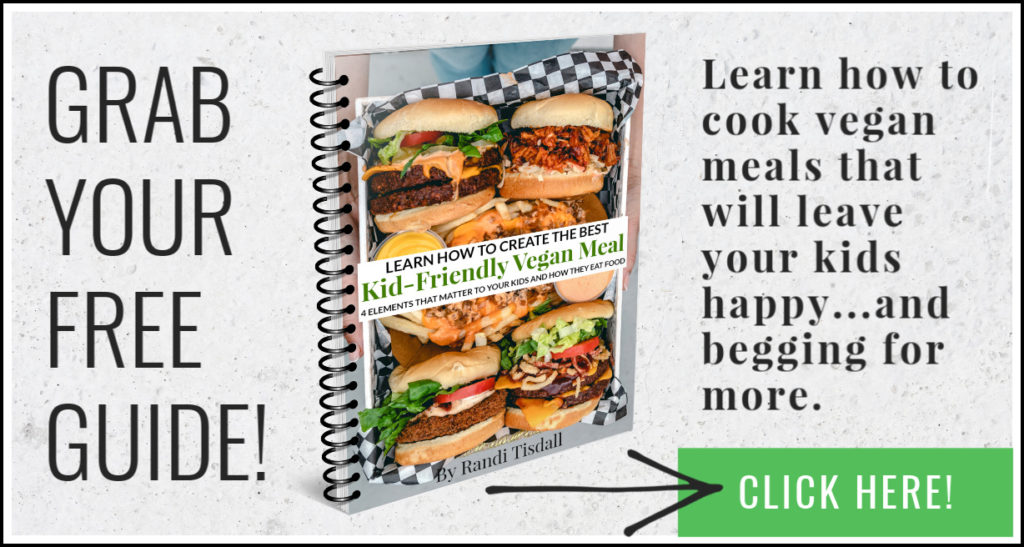 There are a lot of recipes floating around online for vegan chicken nuggets, and I'm sure most of them are pretty damn good. However, as a mom of three kids, I know one thing is true: I don't have time to spend over an hour making vegan chicken nuggets.
The whole point really, about serving your kids nuggets for dinner, is that it should be easy with little to no thought process necessary.
Hence the reason so many of us buy the Boca vegan chicken nuggets when we are in a pinch. Open a package, throw them on a baking sheet, pop them in the oven. There. Done. You happy now?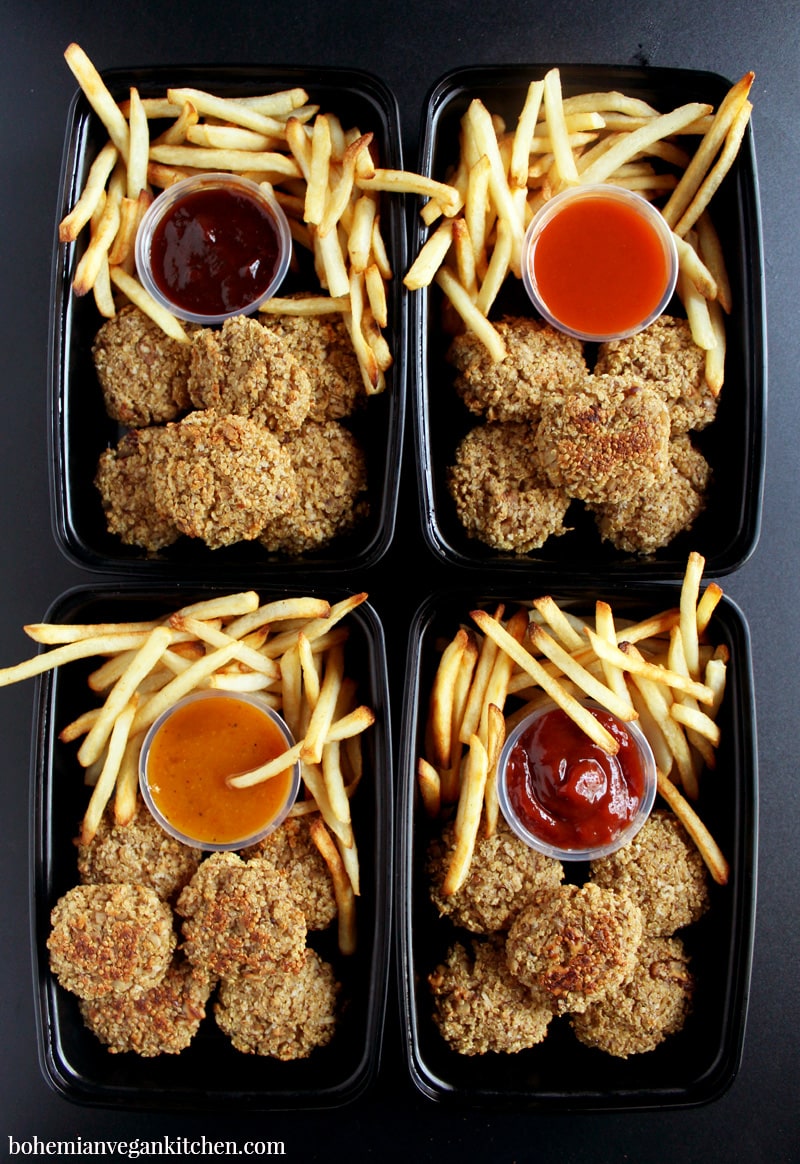 Vegan chicken nuggets that uses quinoa instead of soy
But what about those of us that don't want to eat a whole lot of soy? Or we want to sneak some veggies in, making sure our kids get a good helping of vegetables while also eating enough protein (cuz that's a thing)?
Well, we do it ourselves of course. But it doesn't have to mean hours spent in the kitchen, cooking and dipping nuggets into milk, then dredging them in gluten-free flour or panko breadcrumbs until our hands are coated in edible plaster.
No, just no.
Again, ain't no mama got time for that…or the energy for that matter. Which is why I concocted these deliciously simple vegan quinoa nuggets; no dipping or dredging required.
Also, these nuggets hold up really well; the quinoa and flax bind together to create a pleasing texture + yummy taste that doesn't crumble in your kids clutches.
What's more is that they maintain their togetherness next day too, so you can make a big batch Sunday night and pack your kids lunch with a handful of nuggets, plus their favorite dipping sauce (and some fries if they're lucky).
They'll love you for it.
This recipe only takes 20-25 minutes prep time, and that includes boiling quinoa on the stove and sculpting nuggets together (I wish I could get around this part, but unless you want one giant quinoa brick, I suggest you follow through). But don't worry, if you don't feel like doing all the work, just volunteer your kids to help.
After all, it's for a good cause.
And kids love nuggets…remember?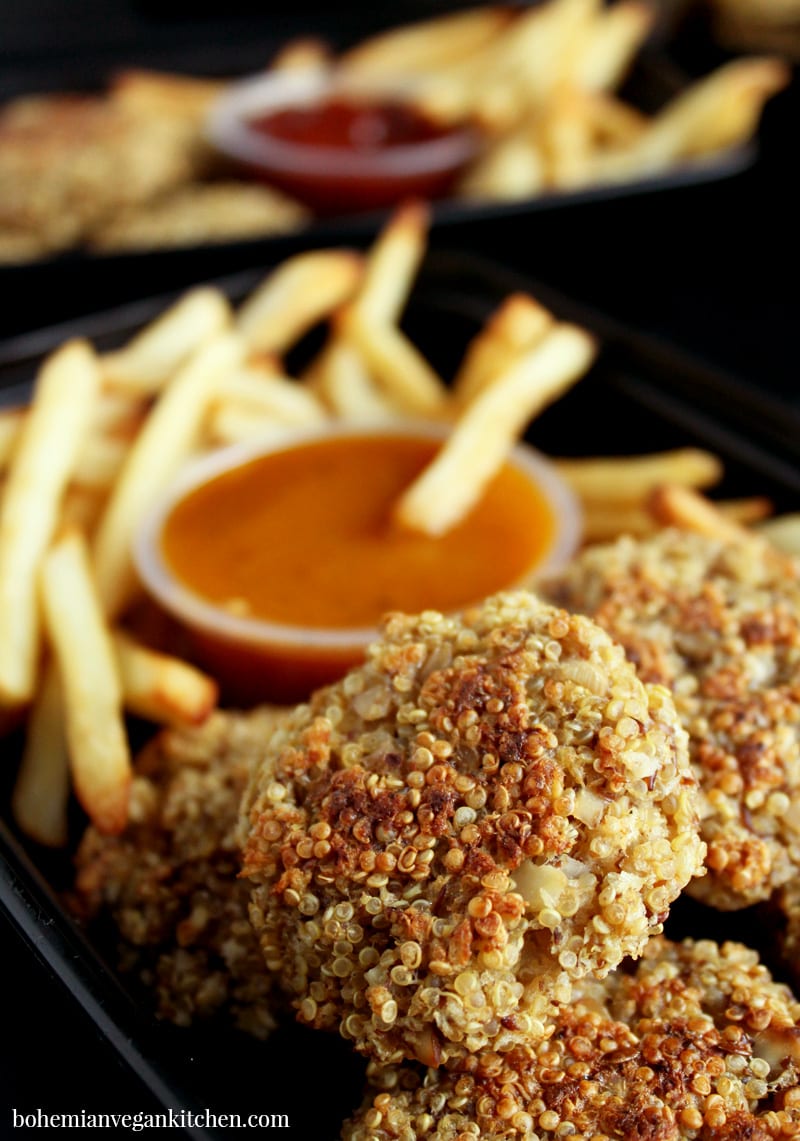 P.S. These nuggets contain hidden cauliflower to pack in extra vegetables for kids that aren't on board the whole "veggie thing" yet. For other hidden veggie ideas, check out the substitutions below.
Allergy-Info & Substitutions
These quinoa nuggets are 100% vegan, meaning they are meat-free, dairy-free, and egg-free. They are also naturally soy-free and gluten-free when using gluten-free panko breadcrumbs.
Make them nut-free by omitting the walnuts; these add extra flavor but leaving them out won't break the recipe.
I've snuck in cauliflower for that "hidden veggie" bonus, but you can add in other vegetables, such as chopped carrots or broccoli. You can also toss in some peas for extra protein, but keep in mind that this may change the way they hold together.
For anther kid-friendly recipe, check out my very popular lentil sloppy joes by clicking here.
I hope you enjoy these amazing vegan nuggets! Make sure to share your creation with me on Instagram by tagging me @bohemian.vegan.kitchen + using the hashtag #bohemianvegankitchen.
Become a VEGAN NINJA in the kitchen.
Want to step up your vegan game? Just pop your email in the space below and I'll send you my complete email series on how to plan and prep vegan meals like a PRO. You'll also receive a FREE meal planning printable as a special thank you download, plus occasional future emails with easy vegan recipes!
Nuggets are here to stay as one of the top kids foods of all time, right next to pizza and hamburgers. Serve your kids healthy quinoa vegan nuggets that are 100% soy-free and gluten-free, while also packing hidden veggies for an added bonus. Great for kids lunches and easy dinners!

Quinoa Vegan Nuggets
Ingredients
¼

C

ground flax seed

½

C

filtered water

2

C

filtered water + 1 cube "Not-Chicken" bouillon

1

C

quinoa (pre-rinsed)

½

C

walnuts, chopped

½

C

cauliflower rice (I use frozen)

1

C

gluten-free panko breadcrumbs

3

tablespoon

nutritional yeast

1

teaspoon

baking powder

1

teaspoon

onion powder

½

teaspoon

pink salt

¼

teaspoon

garlic powder
Instructions
Preheat oven to 400°. In a large mixing bowl, whisk together ground flax and filtered water; set aside.


Begin cooking quinoa: bring 2 C filtered water to a boil, and add "Not-Chicken" bouillon; stir to dissolve. Next, stir in quinoa. Reduce heat, cover, and cook until all liquid is absorbed (about 15 minutes).


Meanwhile, in a small skillet, toast chopped walnuts for 1 min (be careful not to overcook- these can burn easily!); add frozen cauliflower rice and cook for 2 minutes until heated through. remove from heat and stir this into flax mixture.


When quinoa is finished cooking, add this to the mixture, along with remaining ingredients. Stir well to combine, and at this point, check consistency- if it seems too dry, add a splash of water; if it seems too wet, add a touch more of panko breadcrumbs. When the mixture is cool enough, shape into nuggets, transferring to a baking sheet lined with parchment paper.


Bake for 15 minutes, or until nuggets are golden brown. Makes 28-30 nuggets, depending on how big you shape them. Serve immediately OR divide between containers for weekday lunches.

Tried this recipe? Tell me about it + share!
Comment and let me know how it was! Then follow BVK on Pinterest @bohemianvegankitchen
Share this recipe with a friend by Email
Pin It!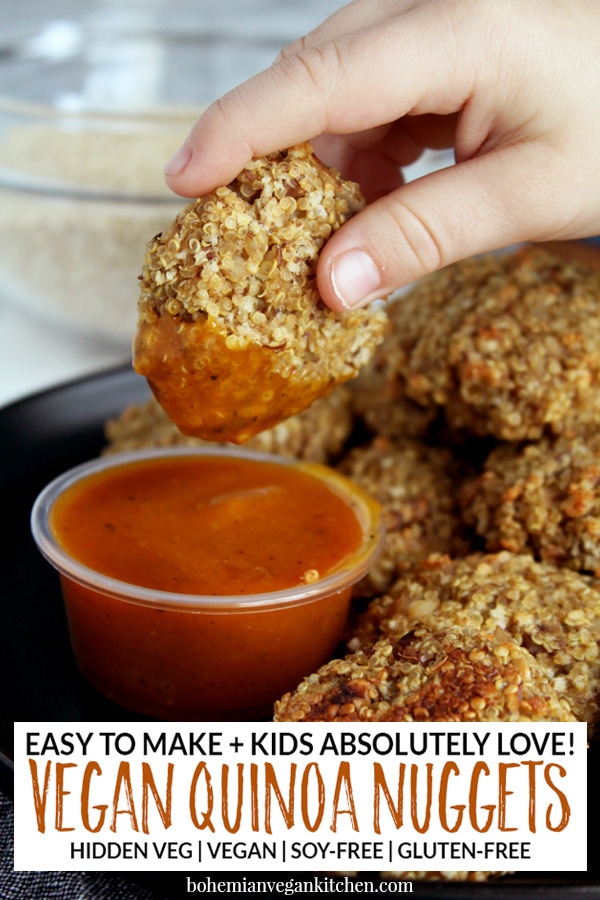 Thank you for taking the time to invest in your health and happiness!