Admit it mama, it's hard to make meal plans.
We've all been there at some point: staring at a blank piece of paper, trying to conjure up meal ideas like they are some sort of magic spell, scanning…scanning…scanning pinterest or exhausting google search engines until our brain feels like liquid mush, only to space out for 20 minutes before zoning back to THE SAME BLANK PIECE OF PAPER!?!? (anger rising) , until FINALLY scribbling a passable list of what you hope is both cost effective and actually edible?
I'm tired just thinking about it. Seriously, grab me a hand fan.
When I'm in this sort of pickle (it happens!), I try to remember my best ally in meal planning world, which is: simplicity, followed by Mexican as a close second. Which is why today, I'm sharing these EASY vegan enchiladas.
Vegan enchiladas that are not only cheap, but healthy too
With a dinner like this, not only are you checking off EASY on your meal planning requirements, but you are also hitting your mark on COST.
Yams, lentils, tortillas, and tomato sauce are all things that can be purchased for practically pennies when compared to "healthy" processed dinners, fleshy and dairy ingredients, and/or takeout.
The best part? They are actually healthy: Yams are a good source of vitamin B6, rich in antioxidants, plus are great for your skin, hair, digestion, blood flow, and even bowel movements (no shame here yo!). Lentils on the other hand, are low in calories, high in fiber, and contain minerals that are good for your heart, muscle generation, digestion, and your nervous system.
Basically, in not so many words, lentils and yams are the power couple you should be taking advantage of.
So back to solving that meal plan crisis. When these two make an appearance on your weekly meal plan, aim to make a couple meals during the week that incorporate their powers, since you can buy both in bulk and get the most bang for your buck.
So mama, seriously, stop beating yourself in the face with your grocery list (turns out it doesn't make your brain work faster). Instead, hop on board the yam and lentil express and ride it all the way to GET IN MUH BELLY town. *ahem*
You're welcome.
Allergy-Info & Substitutions
These enchiladas are 100% vegan, meaning they are meat-free, dairy-free, and egg-free. They are also naturally soy-free and nut-free.
Make them gluten-free by using gluten-free flour tortillas.
Switch up your filling by using refried beans instead of lentils, or go off the tracks and create your own perfect filling.
Don't want to use tomato sauce? Smother them with vegan cheese instead.
For another easy weeknight dinner, check out these Jamaican tacos with mango salsa by clicking here.
For another lentil-based weeknight dinner, try my ULTIMATE lentil sloppy joes by clicking here.
Become a VEGAN NINJA in the kitchen.
Want to step up your vegan game? Just pop your email in the space below and I'll send you my complete email series on how to plan and prep vegan meals like a PRO. You'll also receive a FREE meal planning printable as a special thank you download, plus occasional future emails with easy vegan recipes!
Enchiladas always make the best weeknight dinners! This week, serve up some healthy vegan enchiladas, which uses yams and lentils as the filling. Takes only 10 min prep time and 30 min to bake!
Yam & Lentil Vegan Enchiladas
Ingredients
Filling:
1

medium onion

diced

3-4

garlic cloves

minced

1-2

large yams

about 3 ½ C, diced

2

tablespoon

coconut or olive oil

1

teaspoon

ground cumin powder

1

teaspoon

ground chili powder

1

teaspoon

ground coriander powder

1

C

vegetable or "Not-Chicken" broth

1 ½

C

cooked brown lentils

¼

C

enchilada sauce

recipe below
Extras:
10

flour tortillas

Chopped cilantro for garnish

optional
Instructions
In a medium saucepan, saute onions, garlic, and yams in oil of choice for 3-5 minutes, until onions start to soften. Add ground spices, and cook an additional 2 minutes. Pour in broth, stir, and cover with a lid, cooking until yams are soft, about 10 minutes.

Meanwhile, begin enchilada sauce. Heat oil of choice in a small saucepan for 2 minutes. In a small bowl, combine nutritional yeast (if using), cornstarch, ground spices, and pink salt.

After oil is heated, stir this mixture into hot oil. This should create a thick bubbly paste, also known as a roux, which will help thicken up your enchilada sauce. Heat this roux for no longer than 2 minutes, and then add your tomato sauce. You should hear your oil make a frying sound when you add the tomatoes. Stir, and remove from heat.

Once the yams are cooked all the way through, it's time to add ¼ C of that delicious enchilada sauce to your filling mixture. Stir it in and remove the filling mixture from heat.

To assemble, spread about ¼ C of filling onto a flour tortilla- roll and place in a greased 9 x 13 baking dish. I usually line up about 10 in my dish, with each enchilada slightly overlapping the last.

Once your pan is filled, pour remaining enchilada sauce over your stuffed tortillas. Bake at 350º for about 10-15 minutes, until the edges of the tortillas turn golden brown. Top with fresh cilantro, if desired.
Tried this recipe? Tell me about it + share!
Comment and let me know how it was! Then follow BVK on Pinterest @bohemianvegankitchen
Share this recipe with a friend by Email
Pin It!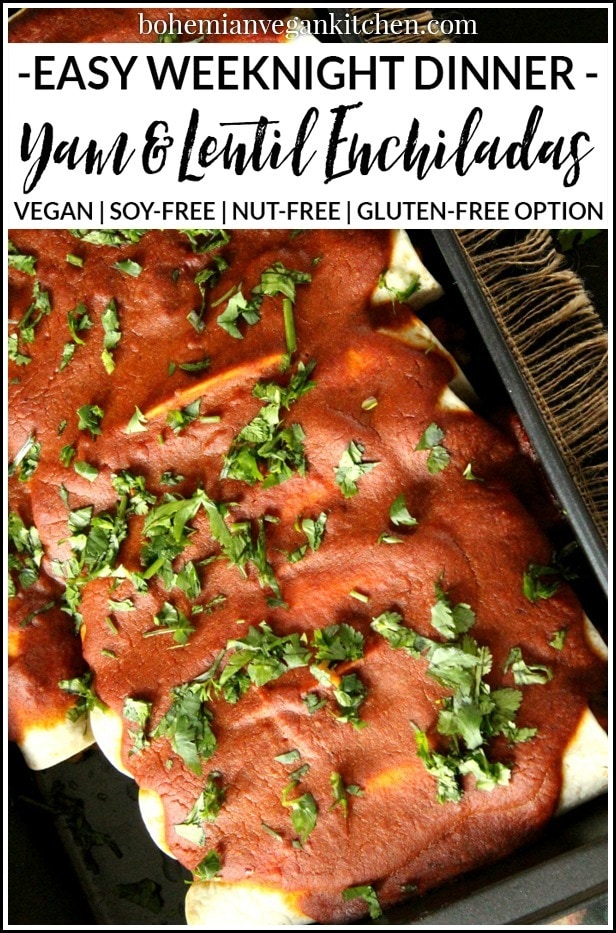 Thank you for taking the time to invest in your health and happiness!