In my pre-vegan days, and when I first got married, I loved learning how to cook traditional German cuisine.
Having Germanic roots on both sides of our family, it only made sense to dive deep into the starchy, meaty recipes that (I felt) were part of the makeup of my soul.
We loved it so much, that for our first anniversary back in the 00's, my husband and I made the trip out to Helen, Georgia, for their annual Oktoberfest. We stayed in a replica of a quaint German Inn, and over the course of the weekend we mingled with old people in braids and lederhosen, drank plenty of beer, and even did the chicken dance.
But regardless of how much fun I had that weekend, my whole outlook on food changed dramatically a couple years later when I went vegetarian, and shortly thereafter, vegan.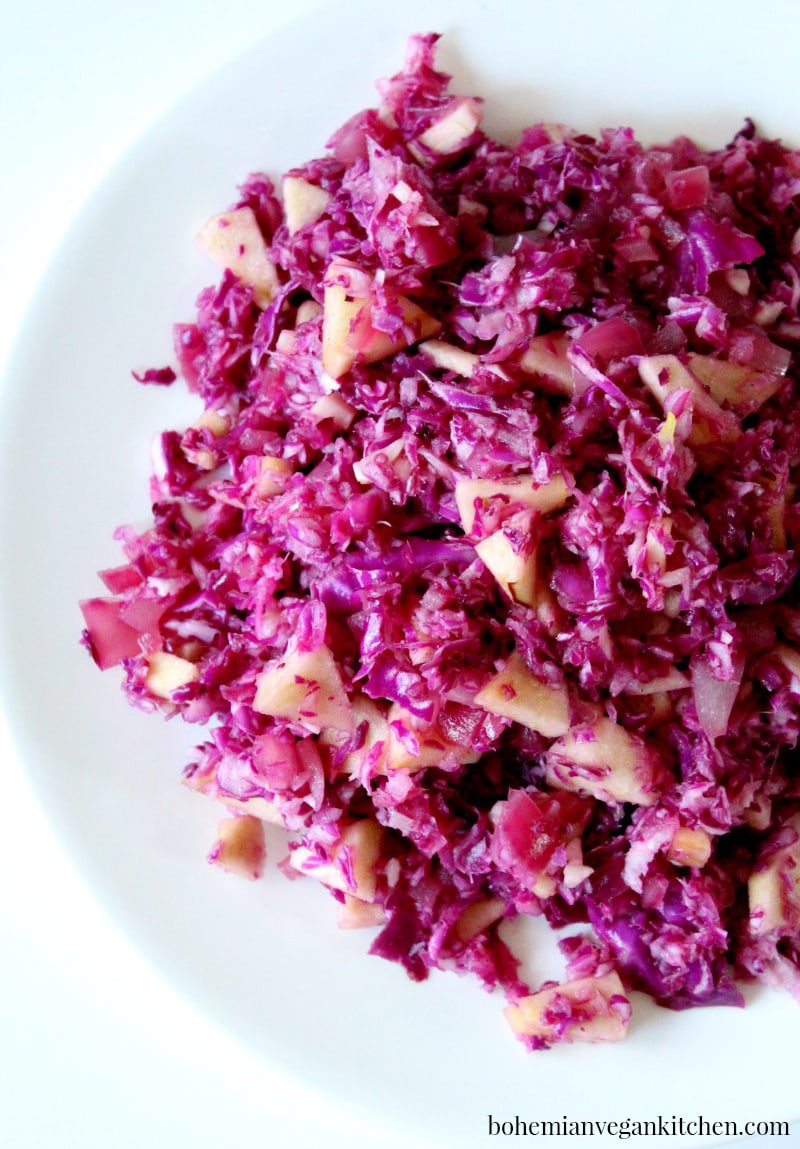 I realized that no matter how much I loved German food, I just couldn't shake what I had learned about the treatment of animals, and therefor, was willing to say "auf wiedersehen" to the cuisine for good.
However, as I dove further into the world of plant-based eating, I found that many of the dishes I had once loved could still be made vegan. I dug out my old cookbook and over the years, have transformed many of my favorite dishes into vegan-friendly dinners that we still enjoy today.
Because while my stance on food ethics may have changed, my lust for German *vegan* food has not.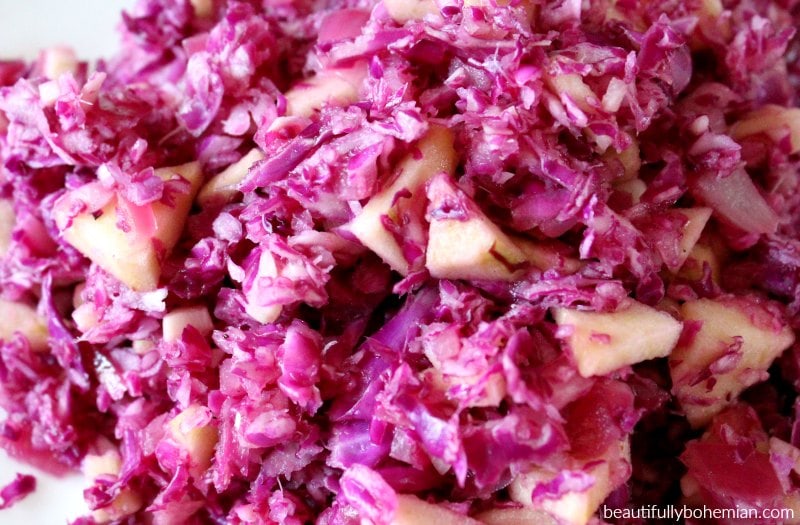 This dish is usually served fully cooked, but for this revamp, I decided to give it a healthy twist by leaving the cabbage and apples raw. What you get is a slaw that is crisp and warm, married with the flavors of your favorite Bavarian feast.
The result is a terrific dish that can accompany any lunch or dinner. I hope you enjoy it as much as I have:)
"Guten Tag!"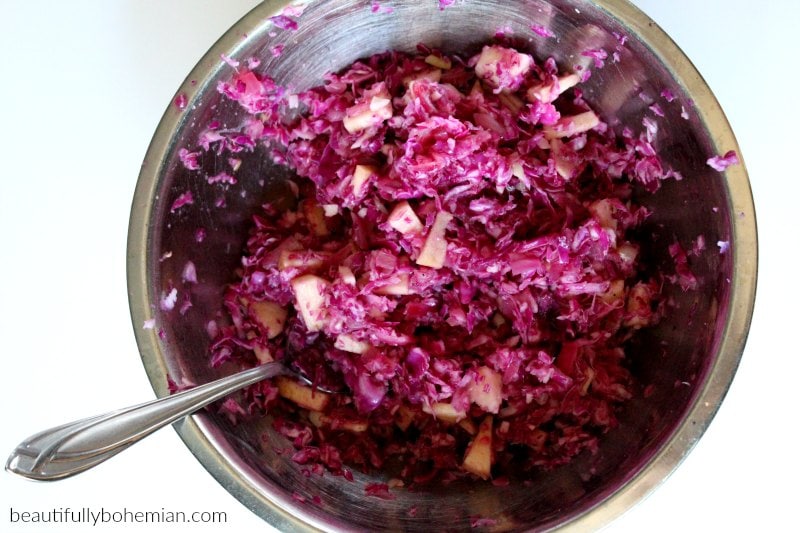 Allergy-Info & Substitutions
This raw sauerkraut is 100% vegan, meaning it is meat-free, dairy-free, and egg-free. It is also naturally gluten-free and nightshade-free.
Make it low-histamine friendly by nixing the vinegar and nutmeg. And don't worry, the onions, garlic, and maple syrup will still deliver flavor.
Mix it up with a variety of apples or add some green cabbage for a contrast of color.
For another simple side dish, check out my 5 minute kale salad by clicking here.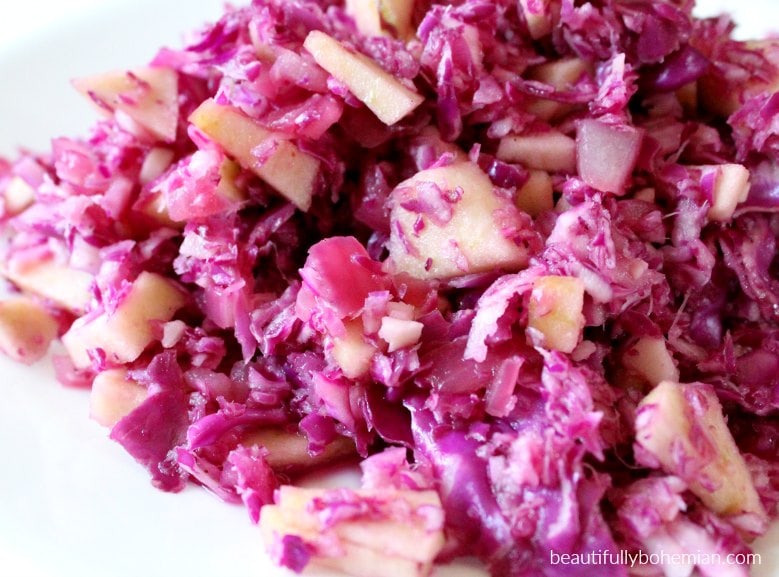 Vegan German Red Cabbage & Apples
Enjoy a healthy serving of this gorgeous red cabbage and apples, complete with Balvarian influence, for a delicious vegan German experience.
Ingredients
3 ½

cups

shredded red cabbage

1

cup

apple

peeled and diced (I used "red delicious" variety)

½

cup

red onion

diced

5

cloves

garlic

minced

2

tablespoons

olive oil

2

tablespoons

maple syrup

¼

cup

apple cider vinegar

Dash of nutmeg

Himalayan pink salt and pepper

to taste
Instructions
In a medium mixing bowl, mix together the red cabbage and apple. Set aside.

In a small saucepan, saute red onion and garlic with olive oil for 2-5 minutes on medium heat, until soft. Stir in maple syrup, and heat for 3-5 minutes, stirring occasionally and letting the onions and syrup "caramelize" a bit. Pour in apple cider vinegar and add nutmeg. Bring to a low boil and cook for an additional 2 minutes.

Remove from heat and pour over red cabbage/apple mixture. Toss to coat. Season with pink salt and pepper, if desired. Serve.
Tried this recipe? Tell me about it + share!
Comment and let me know how it was! Then follow BVK on Pinterest @bohemianvegankitchen
Share this recipe with a friend by Email
Pin It!
Thank you for taking the time to invest in your health and happiness!