I have a love/hate relationship with winter.
On the one hand, without winter, we wouldn't get to utilize our sweater collection, drink endless hot chai tea lattes, or steal the heat from our husbands legs with our icy feet when we hop into bed at night. Muhahahaha.
On the other hand though, it gets SOOOOOO COLD here that the moment I step outside and the wind hits my face, I start swearing like a sailor. And when the cold creeps up your legs and stings your face and makes you so freaking cold that you start cursing every first born child in a mile radius…having comfort food is a necessity.
A vegan biscuit casserole that will keep you warm all winter
Casseroles make great comfort food because you can throw practically anything into them and it will turn out delicious. Add some southern style biscuits on top of that, and you have yourself a cozy casserole even Jack Frost himself couldn't turn down.
Because seriously, life is not complete without biscuits.
But I'm not talking about the store-bought alien life form that tries to escape from its packaging when you pierce it with a butter knife. That stuff is more like chemicals and cardboard than actual food.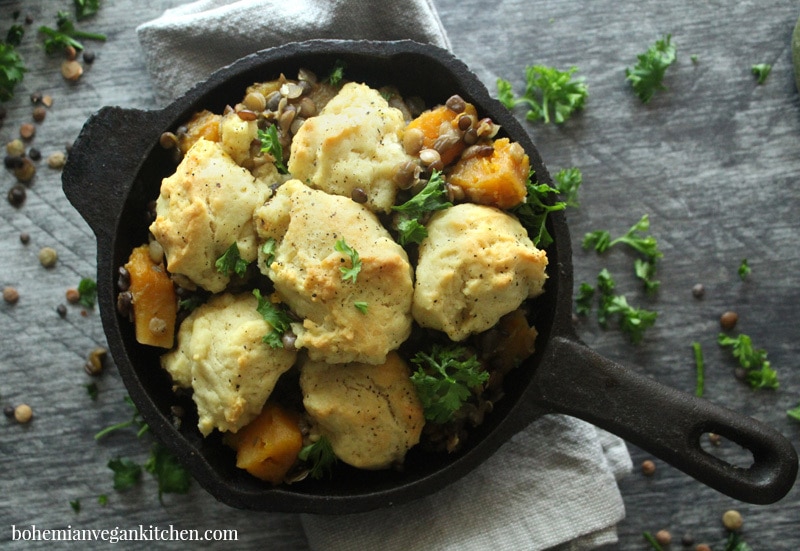 I'm talking about golden biscuits that steam when you split them open; melting in your mouth and tasting like heaven and hard work. The anticipation is like Christmas morning for your belly- you know it's coming but you can hardly contain your childlike excitement. This is the result of REAL BISCUITS y'all.
Because down south, knowing how to make good biscuits are just as important as knowing how to cook grits.
The *magic* of good biscuits
Part of the magic is in the execution. Take the time to measure out ingredients and make your dough. Drop them in spoonfuls onto baking sheets or cut them into rounds with the top of a mason jar.
Yes, you'll have a sprinkle of flour dust on your countertops and in the hard to reach places behind your refrigerator, but it's a small price to pay for something so delicious.
And good biscuits can be used for breakfast, lunch, dinner, and everything in between. You can eat them on the side, serve up as a main with gravy, or use them as the BEST TOPPING EVER.
Because when you're in the dark hole that is winter, there's something about having a piping hot meal at the end of the day that makes everything okay. It can lift your spirits and remind you that simple pleasures go a long way.
Leaving you to do a lot less sailor cursing, and a lot more husband snuggles….cold feet optional 🙂

Allergy-Info & Substitutions
For this casserole, I wanted to use one of my favorite winter veggies: butternut squash. It's super healthy and can help with digestive issues like bloating or constipation, since it contains plenty of fiber*. Butternut squash also can help lower cholesterol levels and improve circulation; as an added bonus its a great choice for those who are following a low-histamine diet.
I also wanted to include lentils, which are healthy, filling, and full of plant protein*. For this recipe I chose "True Roots" sprouted lentil trio, which includes green, brown, and black lentils, and contains 9 grams of protein in ¼ C. You can see the package (and purchase if desired) on Amazon by clicking here OR simply use brown lentils if you do not have access to that option right now.
[convertkit form=5036453]
Stay warm all winter long with this delicious vegan biscuit casserole! Simple yet savory, this casserole is the perfect comfort food that is healthy and full of plant protein.

Southern Vegan Biscuit Casserole
Ingredients
Extra
fresh parsley, chopped for garnish
Instructions
Preheat oven to 450°. In a large skillet, bring ingredients for the casserole base to a boil. Reduce heat to medium low and cover with a lid; heat for 20-25 minutes, stirring occasionally, until butternut squash is fork tender and lentils are cooked through. Remove from heat. While this mixture is cooking, you can get started on the biscuit topping.


To make biscuit topping, begin by mixing the coconut oil into your flour until the coconut oil is evenly dispersed. This is called "cutting" the flour and the result is a clumpy mixture that looks like tiny dough balls. You can do this by hand using a medium mixing bowl and a fork. I like to use a stand mixer, because I can keep it running (with the paddle attachment) as I work.


Once you've combined the oil and flour the best you can, slowly add in the sugar and baking powder; mix until combined well. Next add in the salt and then slowly drizzle in the almond milk. If you're not using a stand mixer, you may have to start kneading this in the bowl with your hands, until you get a good dough. This WILL be sticky, because they are drop biscuits! If you don't want to use your hands, a fork will work just fine, but put your back into it!


Once the squash and lentils are cooked through, you can assemble your casserole. Pour the butternut squash mixture into a 9 x 13 pan (grease with coconut oil prior to using) and spread out evenly. Then begin dropping your biscuit dough on top by the spoonful, until it is evenly covered. Sprinkle with a dash of black pepper.


Bake for 10-12 minutes, until biscuits turn a nice golden brown. Remove from heat and let cool for 1 minute. Garnish with fresh parsley.

Tried this recipe? Tell me about it + share!
Comment and let me know how it was! Then follow BVK on Pinterest @bohemianvegankitchen
Share this recipe with a friend by Email
Pin It!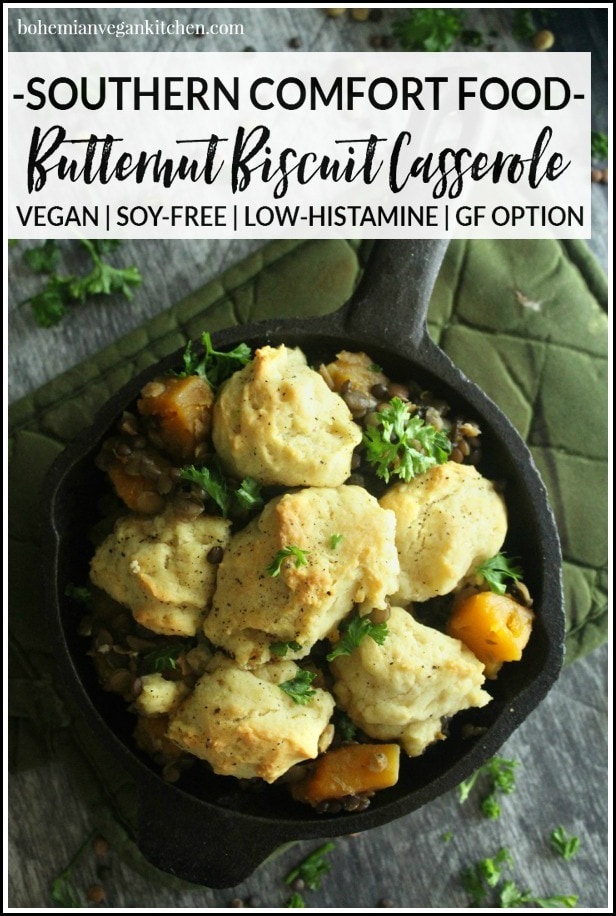 I hope you get a chance to make this delicious biscuit casserole! If you do, make sure to tag me on Instagram @bohemian.vegan.kitchen, as well as your photo with #bohemianvegankitchen, so I can see your awesome creation!
Thank you for taking the time to invest in your health and happiness!