Cauliflower has quickly become one of my favorite foods…especially when she's playing footsie with buffalo sauce.
As a kid I always associated cauliflower with the horrid veggie platter served at parties- you know, the one that everyone picks over out of guilt, because they feel like they "should" have a bite of something for their health (but not for pleasure).
I don't think I've ever seen ANYONE get giddy over these things, and honestly wonder why people continue to buy them.
Let's get one thing clear about vegans while we are on the subject btw- just because we eat vegetables does not mean we love raw veggie platters. Personally, I despise this sad excuse of dried cut veggies with a side of ranch (that is not dairy-free mind you).
"I'M SO FULL AND SATISFIED AFTER EATING THAT VEGGIE PLATTER WITH NO RANCH SAUCE!"…said no one ever.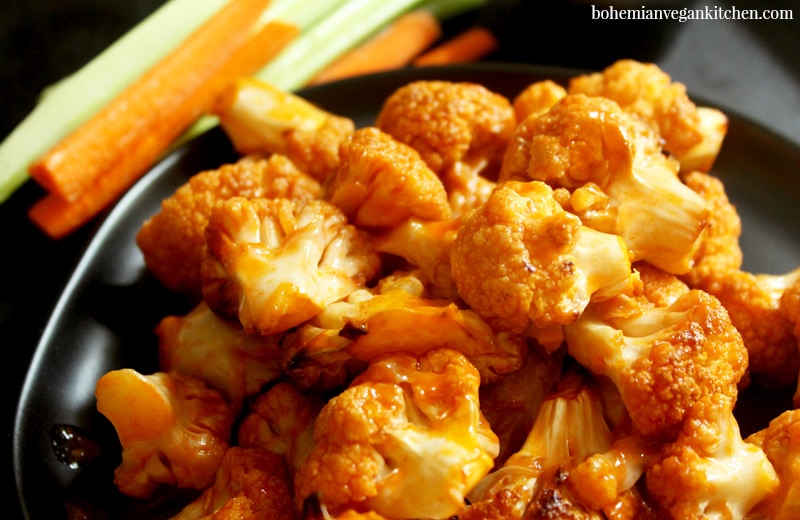 I'm not trying to come off as being obnoxious or rude, but I stress this only because I cannot tell you how many times I've been invited to a party and told upfront (very proudly I may add), "And don't worry Randi, we have a veggie plate for you!".
Immediately following is a suppressed nostril flair and uncontrollable eye twitch from yours truly.
Because cauliflower should not be treated as the backup singer or albino cousin of broccoli. It can and should be a star, free to be the loud mouth and centerpiece of any party.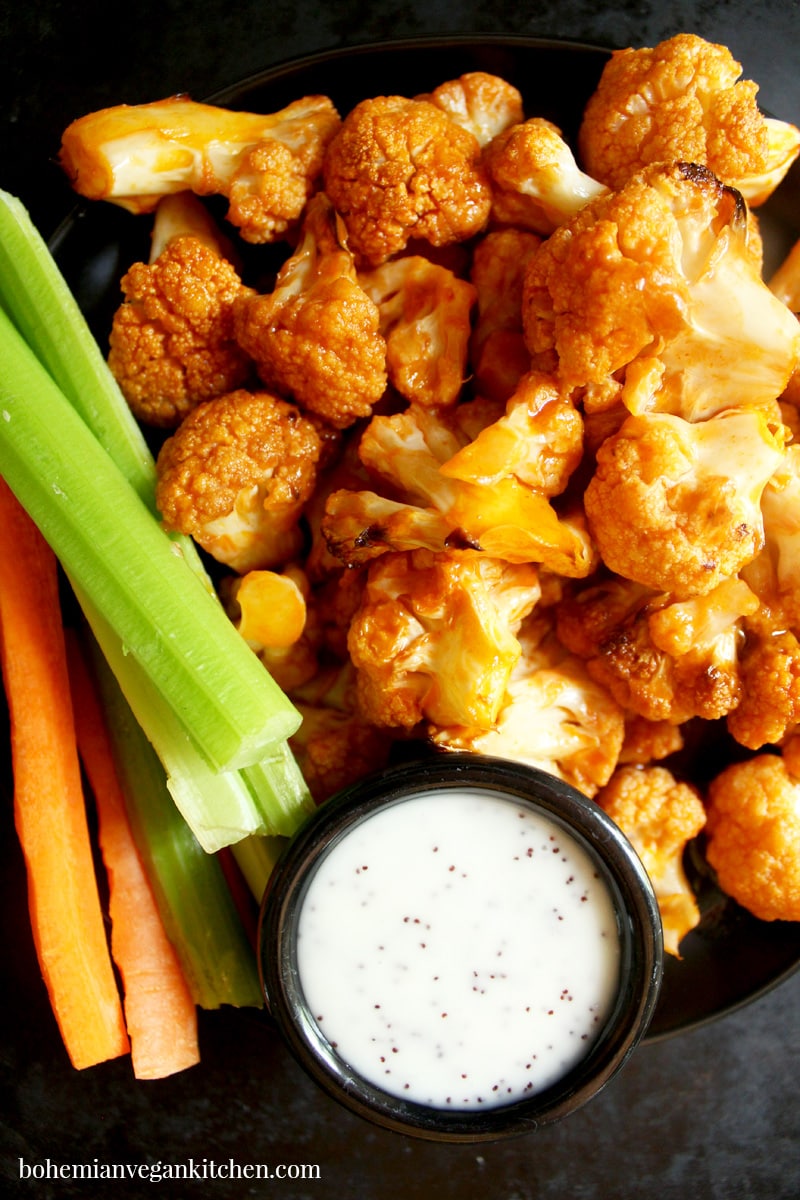 If you cook it just right (and the key word here is COOK), cauliflower is delightful. Sure, in this recipe she is lustfully engaged with one of my favorite condiments, HOT SAUCE, but hey, the lady does not need to be clothed in sauce to seduce you.
Buffalo Cauliflower just so happens to be one of my favorite ways to recreate the beloved hot wing without relying on blocks of tofu!
And I think that's what is so magical about cauliflower in general- she has her own unique flavor, but it is not so overpowering that you cannot change hats every now and again- she is very forgiving when it comes to cooking.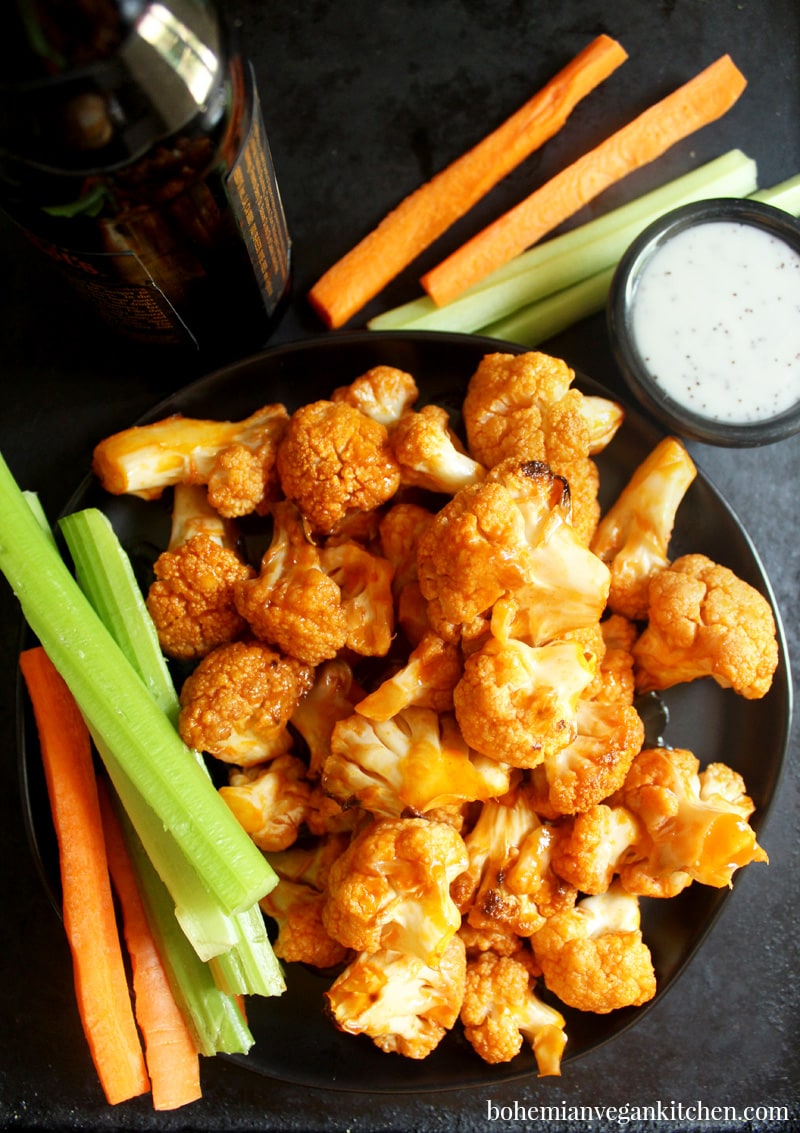 So, the next time you are craving something spicy and finger-licking-good, try making these delicious hoppin' baked florets!! Unlike their dried counterparts, these babies are moist and tender and go FANTASTIC with a side of crunchy celery and ranch (which is the way these veggies should be served, as a partnership for the greater good).
I hope you enjoy some baked Buffalo Cauliflower at your next party and throw that veggie platter in the trash!
More cauliflower recipes:
Love this recipe? Please leave a 5-star ⭐⭐⭐⭐⭐ rating in the recipe card and, if you enjoy it, leave a comment. Thanks in advance!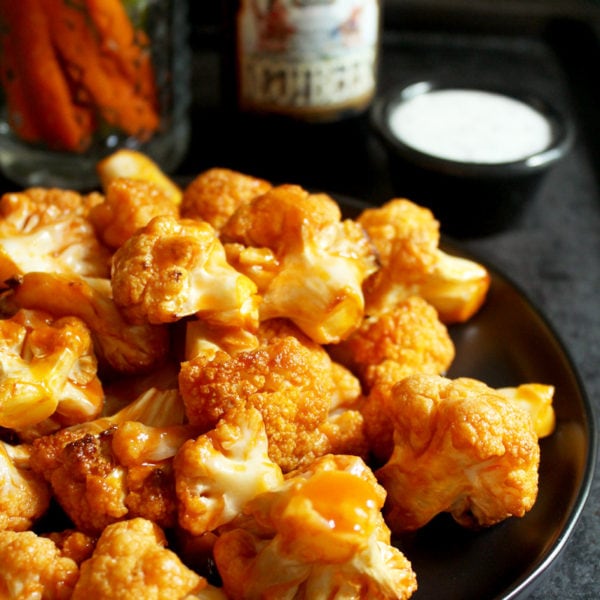 Buffalo Cauliflower Wings (No Flour)
Spice up your party with these KILLER buffalo cauliflower wings! Easy to pull together, these "wings" are naturally gluten free with no flour needed. Takes 10 minutes to assemble, then let the oven do the rest! Serve with carrot and celery sticks, plus ranch dressing to cool your taste buds.
Ingredients
⅔

cup

hot sauce

I prefer Texas Pete

3

tablespoons

butter

I use dairy free

1

large head of cauliflower

cut into florets
Instructions
Preheat oven to 400° F (204° C). Line a baking sheet with parchment paper and set aside.

In a small saucepan, melt butter on medium-low heat. Add the hot sauce, and stir, cooking for 1-2 minutes until heated through.

Toss cauliflower with hot sauce (I use a large Tupperware with lid) and transfer to baking sheet. It's okay if there's a little extra sauce– you can stir/flip your cauliflower around in it, so no biggie!

Bake for 40-45 minutes, stirring and flipping your cauliflower halfway through. Cauliflower is ready when it is fork tender, and a little brown around the edges. Serve with carrot and celery sticks, plus sauce of choice if desired.
Nutrition Information
Calories:
116
kcal
|
Carbohydrates:
8
g
|
Protein:
3
g
|
Fat:
9
g
|
Saturated Fat:
2
g
|
Polyunsaturated Fat:
2
g
|
Monounsaturated Fat:
4
g
|
Sodium:
1199
mg
|
Potassium:
492
mg
|
Fiber:
3
g
|
Sugar:
3
g
|
Vitamin A:
440
IU
|
Vitamin C:
99
mg
|
Calcium:
38
mg
|
Iron:
1
mg
Tried this recipe? Tell me about it + share!
Comment and let me know how it was! Then follow BVK on Pinterest @bohemianvegankitchen
Share this recipe with a friend by Email